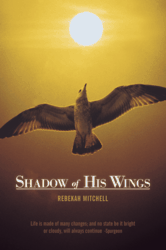 Beaufort, S.C. (Vocus/PRWEB) February 17, 2011
In Shadow of His Wings (published by WestBow Press), author Rebekah Mitchell shares a collection of fictional short stories based on principles and concepts found in Scripture. Each of her twenty stories, written for a Christian preteen audience, presents real life scenarios and challenges, and provides encouraging messages about faith.
The first story in the collection, "Productive Fear", discusses a concern that one young friend has for his classmate. Mark is alarmed when Tony, a typically hard-working student, is nonchalant about a homework assignment. Through prayer, Mark is able to discover why Tony is being so indifferent about the important school project and he is able to help Tony with his weighing family problem.
Another one of Mitchell's short stories, "Romans Roads", follows a young Christian girl as she struggles with the burden that is holding her back from salvation.
Thoughts keep popping into my mind. It isn't a dream. I'm wide awake at three o'clock in the morning, tossing and turning, trying to put it all together. I'm trying to figure out something about being born again, but my thoughts are confused beyond identification with anything I can think through.
C'mon Amy, I say to myself, you know you are saved. Go back to sleep and forget it.
I encode a message to my brain to talk to Heidi as soon as possible. She is three years older than me. She was saved two years ago. She can help me.
About the Author
Rebekah Mitchell was born in Beaufort, S.C. where she still lives on Lady's Island. She received a bachelor's degree in speech and drama at Columbia College and a bachelor's degree in elementary education at Winthrop College. She worked as a drama coordinator for the Department of Leisure Services for the city of Charleston, S.C. Mitchell helped initiate The Child in Everyone, a mini-festival for an annual arts event in Charleston. She has also taught fourth, fifth and sixth graders as well as creative dramatics lessons to children ages five to 12. Mitchell has plans to publish four additional books containing short stories for preteens.
WestBow Press is a strategic self-publishing alliance of Thomas Nelson, the world's premier Christian publisher, and Author Solutions, Inc. (ASI)—the world leader in the fastest-growing segment of publishing. For more information, visit http://www.westbowpress.com.
###