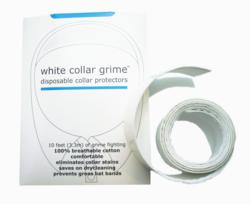 White Collar Grime keeps hats clean, protecting them from getting ruined in the wash.
Irvine, CA (Vocus/PRWEB) February 17, 2011
Baseball caps are some of the grimiest hats out there. It's next to impossible to convince a fan to wash his hat, and with good reason- a hat thrown in the laundry will lose its precious shape and never be the same. But in this day and age, there is a solution.
Instead of tossing it in the laundry, it is possible to retain a clean hat. Consumers are now able to stick White Collar Grime inside the hat band to protect it from sweat, dirt, oil, and makeup. Easily customizable for size, the product is used simply by cutting off the desired length, peeling off the backing, and sticking the product to the desired surface. When the 100% cotton strip gets grimy, it can be replaced with a fresh one. At $9.95 for a 10-foot roll, it's cheaper than buying a new hat and easier than the hassle of convincing a loved one to launder their favorite accessory.
Now nobody has to get stuck during baseball season with a grimy cap. White Collar Grime is available at SolutionsThatStick.com.
About Solutions That Stick:
Irvine-based, Solutions That Stick Inc. is the expert in boobs, sweat & farts. The all-women company develops, manufactures and markets innovative fashion and beauty solutions that make life easier and less embarrassing. Garment Guard™, the original disposable underarm shield, was their first innovation over ten years ago. They now have a line of 24 products and growing.
Founder Kim Leone Olenicoff is an inventor, entrepreneur, estate planning attorney, around-the-world sailor, and over-analyzer. Widowed at 31, she lives as best and as ridiculously as she can by offering all types of solutions on life's (and death's) little problems, personally, via TheDumbList.com and on the SolutionsThatStick YouTube channel.
# # #