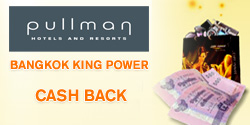 (Vocus/PRWEB) February 17, 2011
Pullman Bangkok King Power, the city's upscale hotel in the prime area of Bangkok, together with King Power Downtown Duty Free Mall joins hands for a 'Cash Back' promotion to start the summer holidays in Thailand, Southeast Asia's shopping paradise. The promotion offers hotel guests THB 1,000 cash back voucher to spend at Pullman Bangkok King Power for every THB 5,000 (net sales) they spend at King Power Downtown Duty Free Mall.
"We anticipate that the cash back voucher will attract more travelers to stay at Pullman Bangkok King Power as the voucher can be used to rebate the expenses at the hotel upon check out. This promotions shows an impressive synergy where the King Power Group can enhance each other's businesses," said Mr. Marc Begassat, General Manager of Pullman Bangkok King Power.
All bookings between 15 February – 15 April 2011 are entitled to this promotion. The THB 1,000 valued cash back voucher can be used only at Pullman Bangkok King Power hotel. This voucher can be applied for in house hotel's guest only and cannot be transferable. The cash voucher cannot be redeemed or exchanged into cash but it can be accumulated when rebate. The condition is valid from 15 February to 30 June 2011. The hotel reserves the right to change any conditions without prior notice.
Enjoy the ultimate shopping experience at King Power Duty Free and get your cash back only at Pullman Bangkok King Power. For more information click here.
About Pullman
Pullman is Accor's upscale hotel brand designed with the requirements of business women and men in mind.
Located in the main regional and international cities, Pullman hotels provide an extensive range of tailored services, access to groundbreaking technologies, and "Co-Meeting", a new approach to organizing meetings, seminars and high-end incentives. At Pullman hotels, business travelers can choose between being independent or choosing help from our staff available round the clock.
Further information concerning Pullman hotels is available on the website http://www.pullmanhotels.com.
About Accor
Accor, the world's leading hotel operator and market leader in Europe, is present in 90 countries with 4,100 hotels and close to 500,000 rooms. Accor's broad portfolio of hotel brands - Sofitel, Pullman, MGallery, Novotel, Suite Novotel, Mercure, Adagio, ibis, all seasons, Etap Hotel, Formule 1, hotelF1 and Motel 6, and its related activities, Thalassa sea & spa and Lenôtre - provide an extensive offer from luxury to budget. With 145,000 employees worldwide, the Group offers to its clients and partners nearly 45 years of know-how and expertise.
###