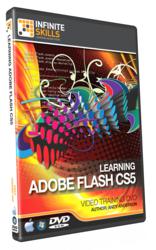 Infinite Skills will continue to provide the training users want to stay ahead of the curve.
(Vocus/PRWEB) February 16, 2011
Video training solutions company InfiniteSkills has just released a new Adobe Flash CS5 tutorial. Employing real-time video walkthrough and instructor-led sample projects, the Adobe Flash training course has been designed to help users learn the basics of the application and how it can be used in multiple design and multimedia workflows. From basic vector drawing tools to more complex animation and video functionality, many popular Flash features are discussed.
Adobe Flash CS5 Tutorial DVD - Video Training
"We're excited to bring professional quality training to yet another one of the most popular programs in the Adobe Creative Suite," said Mike Spaulding, president of Infinite Skills. "Because it offers a web-ready format, Flash is important on its own and as a way to share existing projects and art."
All lessons in the course are written and presented by Andy Anderson, an author and technologist with years of software training experience. Anderson has written over 17 books on graphic and web design, and has provided professional training services for numerous governmental organizations and Fortune 500 companies. In 138 individual lessons, Anderson guides users through common challenges and tasks within Flash Professional while working to provide creative tips and advice.
The Flash CS5 Training opens with a primer on the Adobe Flash publishing formats and user interface. Anderson guides the viewer through basic tools, settings, and functionality before moving into the creative process. Viewers can learn to work with color, vector graphics tools, symbols, and text effects before moving into the process of animation. The tutorials cover Adobe Flash tweening, curves, and masks to achieve a wide range of results. Audio and motion video elements are examined at each step, followed by filters and special effects. Finally, the Adobe Flash CS5 lessons wrap up with a guide to publishing a Flash movie, helping viewers learn how to export their projects or put them online.
"As Flash evolves as a format for web content and video production, Infinite Skills will continue to provide the training users want to stay ahead of the curve," Spaulding said.
The complete Adobe Flash CS5 Tutorial Video is ten hours in length, and it includes sample media files that allow viewers to actively participate while watching lessons onscreen. The Flash training is completely Mac and Windows compatible, and available for purchase on DVD-ROM or as a direct download from the Infinite Skills web site. The retail price is $99.95 USD, and shipping is available to customers worldwide. More information about the topics covered and a number of free sample tutorials can be found on the product page:
http://infiniteskills.com/training/flash-professional-cs5-essential-training.html
About Infinite Skills Inc
Infinite Skills offers eLearning and computer-based training video solutions to individuals and businesses worldwide. With a combined commitment to educational innovation and customer service, the North American company is quickly becoming a leading source of software training on the web.
# # #