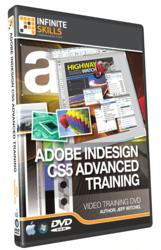 [The course] places emphasis on the InDesign techniques and skills most commonly in demand by professionals working today.
(Vocus/PRWEB) February 18, 2011
Computer-based training and eLearning provider Infinite Skills Inc has released a new Advanced InDesign CS5 training video course. As the second InDesign CS5 title the company has released, this advanced series has been designed to offer an extended look at layout, paragraph and text formatting, long documents and more. The course incorporates sample InDesign files that let users follow the examples presented onscreen.
Advanced Adobe InDesign CS5 Tutorial - Video Training DVD
"After the success of our first InDesign CS5 training video, we wanted to raise the bar and help users get an even better understanding of what they can use the program to do," said Mike Spaulding, president of Infinite Skills. "InDesign skills are in demand, and we're happy to help individuals and organizations increase their knowledge even further."
The Advanced InDesign CS5 Training is narrated by Adobe Certified Expert Jeff Witchel, who builds upon the lessons he created earlier for the introductory InDesign course. As a leading author and enthusiast, Witchel places emphasis on the InDesign techniques and skills most commonly in demand by professionals working today.
While some features addressed are skills carried over from previous versions of the program, numerous tips are specific to Adobe InDesign CS5, giving viewers a hands-on guide to the new features Adobe has introduced. Because the training requires a baseline understanding of InDesign, Infinite Skills recommends its advanced video series to viewers who have watched the prior InDesign course and those who already feel comfortable using the program to complete basic projects and tasks.
"People often think of video tutorials as a beginners' tool, but we've seen great success in offering more advanced training to professional users," said Spaulding. "Advanced users want to know how they can use InDesign more efficiently, and how they can use its toolset to add multimedia content or layout an entire book."
These InDesign CS5 tutorials begin with a guide to customizing the program's interface for individual workflow requirements and then address advanced layout techniques. Witchel shows viewers how to use ruler guides, grids and master pages more efficiently to let InDesign automate common settings and effects. He moves through frame and object manipulation techniques, paragraph and character formatting, long document pagination, graphics, printing, interactivity and more. Specific topics include Object Transformation Tips, GREP For Designers, Making Type Split Columns, Advanced Object Styles, InDesign AI & PSD, Swatch Tricks, Multi-State Objects, and Export To Acrobat For Press.
The Advanced InDesign CS5 Training Video Course can now be ordered from the Infinite Skills website. The Mac and Windows compatible tutorials are available on DVD-ROM or as an instant digital download. The full retail price is $99.95 USD, and orders can be fulfilled worldwide. A complete listing of all lessons included and free demo tutorials can be found on the product page:
http://infiniteskills.com/training/adobe_indesign_cs5_advanced_training.html
About Infinite Skills Inc
Infinite Skills provides high quality video-based training and eLearning solutions to customers worldwide. By sourcing the world's best technology educators and utilizing broadcast quality audio and video, the company is quickly becoming a definitive destination for computer-based training online.
###