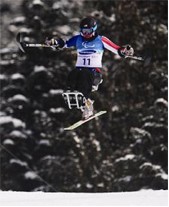 Winter Park, CO (Vocus/PRWEB) February 16, 2011
The National Sports Center for the Disabled (NSCD) is gearing up for the 36th annual Wells Fargo Ski Cup scheduled for Friday, March 4th – Sunday March 6th. The weekend festivities include three exciting ski races, skier hospitality, live entertainment, ice carving demonstrations and a large silent auction.
Participants have the unique opportunity to race with world-class competitive disabled skiers as well as enjoy the fun activities throughout the weekend. On Saturday morning, the Corporate Challenge brings amateurs of all skiing and snowboarding abilities to the slopes in a pro-am style event. Each race team consists of a top disabled athlete and five amateurs. Starts are handicapped so that every run is competitive. Saturday morning boasts the GO Autonation Snowplow Sprint which is a chance for children under 12 years old experience a coaching clinic with NSCD elite skiers and race the course with local mascots. Sunday's premier ski race, the World Disabled Invitational, puts the best male and female disabled racers in the world flying down Lower Hughes Run while competing for one of the largest cash prizes on the disabled racing circuit.
SKI for NSCD, an online fundraising program in conjunction with the Wells Fargo Ski Cup, invites those who would like to support the NSCD to effortlessly raise money online, win great prizes and be part of the Wells Fargo Ski Cup weekend.
With over 35 years of support from Wells Fargo and other corporate sponsors, the Wells Fargo Ski Cup raises over $200,000 annually to support the innovative programs of the Nationals Sports Center for the Disabled. What began in 1970 as a one-time ski lesson for children with amputations for the Children's Hospital of Denver, the NSCD is today one of the largest outdoor therapeutic recreation agencies in the world. Each year, thousands of children and adults with disabilities take to the ski slopes, mountain trails and golf courses to learn more about sports - and themselves. With specially trained staff and its own adaptive equipment lab, the NSCD teaches a variety of winter and summer sports and activities to individuals with almost any physical, cognitive, emotional, or behavioral diagnosis. For more information on the NSCD, please visit http://www.nscd.org.
National Sports Center for the Disabled Competition Center
Athlete Spotlight – Alana Nichols
Growing up, Alana Nichols was very active and competitive, playing softball in high school until she broke her back in a snowboarding accident at the age of 17. However, her accident didn't keep her out of competition for long. She began playing wheelchair basketball at the University of Arizona just two years later. Nichols then qualified for the U.S. Paralympics Women's Wheelchair Basketball National Team in 2005 and competed in the 2008 Paralympic Games, helping her team bring home the gold.
In 2002, Sante Fe Ski Resort offered Nichols a grant that would allow her to learn adaptive skiing. She took on mono-skiing and excelled quickly. After returning from the 2008 Paralympic Games, Nichols began competing with the National Sports Center for the Disabled (NSCD) in Winter Park, Colo.
At the 2010 Paralympic Winter Games in Vancouver, Nichols was the top medal winner for Team USA. She took home two gold and two silver medals. Most recently at the World Championships in Sestriere, Italy she won two gold medals and two bronze medals.
Nichols graduated from the University of Alabama with a master's degree in Kinesiology and is interested in exercise science. She is especially interested in working with people with spinal cord injuries and introducing them to sport.
Alana Nichols: Major Achievements:
2011: Gold medal, women's sitting downhill, women's sitting super G; Bronze medal, women's sitting slalom, women's sitting giant slalom - World Championships, Sestriere, Italy
2010: Gold medal, giant slalom and downhill; Silver medal Super G; Bronze, super combined - Winter Paralympic Games, Vancouver, Canada
2008: Gold medal, wheelchair basketball - Paralympic Games, Beijing, China
*All media is invited to attend the Wells Fargo Ski Cup and will receive 2 Event Credentials (3-day ski pass and entrance into the hospitality area). Select race spots are also available for the Wells Fargo Corporate Cup – MEDIA TEAM. Please contact NSCD Marketing Director Rachel Hirt at (303) 633-5802 to reserve your credentials, story ideas or more information.
###