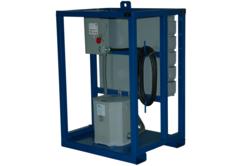 With an increased demand in power distribution substations and transformers to accompany our explosion proof lighting and blowers for domestic and international sales, we added more resources to expedite the delivery process
Kemp, TX (Vocus/PRWEB) February 16, 2011
The MGS-30KVA-12O power transformer substation provides a safe and effective way for operators in industrial and commercial settings where standard power is not available to facilitate safe operations, to tap into and utilize 480VAC power sources independent of the work area. This unit provides an effective power source for operators performing plant turnarounds, maintenance and cleaning in hazardous areas, equipment installations and repairs and any activities requiring an alternative to standard power sources. This unit is designed to operate with 480 VAC which it then steps down to 120 and 240 VAC. The power distributions sub-station is made in the USA, is completely weatherproof and can be configured for single phase or three phase operation. Incorporating a fully potted transformer, weatherproof GFI outlets and weather tight panel box, the powder coated, skid mounted substation can handle rain and direct spray. The standard ¼ inch thick, 3 inch square tubing can replaced with stainless steel, hot dip galvanized steel or aluminum depending on the application. This power transformer makes 120VAC available via 10 GFCI protected receptacles and 240VAC available via two GFCI protected 240VAC outlets, effectively providing multiple power sources from one unit. With the MGS-30KVA-120 480, VAC single phase current is converted into single phase 120V AC and 240V AC at 30 KVA and then distributed to a variety of onboard power receptacles. Safety is insured through the use of GFCI protection for the outlets and integral breaker boxes on both the 480VAC input end and 120/240VAC outlet end. An SEOOW electrical cord runs power to the fused ON/OFF disconnect switch which controls power to the 30 KVA, 480 Volt Transformer. The transformer and distribution assembly is mounted onto a rugged frame with integrated forklift pockets and a top located loading eyelet to allow easy lifting of the unit for transport. This unit is well suited for use in a wide variety of applications including plant maintenance, hazardous location operations, as a welding station, shows and exhibits and marine applications. These units are ideal for use in hazardous locations where external power sources are often necessary and work well in combination with explosion proof lights. Larson Electronics' Magnalight can also build these transformers to custom specifications and can deliver custom ordered units almost as quickly as prebuilt versions.
"With an increased demand in power distribution substations and transformers to accompany our explosion proof lighting and blowers for domestic and international sales, we added more resources to expedite the delivery process of these integrated transformer systems," said Rob Bresnahan with Larson Electronics' magnalight.com. "Most of the substations we build are to custom specifications, unlike our explosion proof lighting, which we tend to stock prebuilt units deeply. Many of the projects we work on require both, so to cut the lead time on the delivery of the entire solution, we added more resources to build these power distribution sub-stations. With a range of options, including transformer size, mounting options (carts and skids) to the number and type of outlets, there are countless configurations, so Magnalight is better prepared to build these in 2 weeks instead of 4 weeks."
Larson Electronics' Magnalight.com builds and supplies large inventory of power distribution substations, solar powered generators, inline transformers, hazardous location lights, intrinsically safe lights and explosion proof blowers. Visit Magnalight.com to learn more or call them at 1-800-369-6671 or 1-214-616-6180 for international inquiries.
###