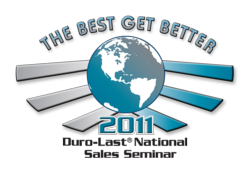 "The wisdom we gain from close interaction with our customers over those few days is invaluable," said Duro-Last President Tom Hollingsworth.
Saginaw, Michigan (Vocus/PRWEB) February 17, 2011
The 2011 Duro-Last National Sales Seminar was held at Disney's Contemporary Resort in Lake Buena Vista, Florida, January 30 – February 1, 2011. Duro-Last hosted over 1300 guests representing nearly 200 authorized Duro-Last contractors – the largest Seminar gathering in company history. The theme for this year's event was, "The Best Get Better," in recognition of the affiliation Duro-Last enjoys with the authorized roofing contractors that effectively sell and install the Duro-Last product line.
"Our annual Sales Seminar is an extraordinary event in the roofing industry," said Duro-Last President Tom Hollingsworth. "The wisdom we gain from close interaction with our customers over those few days is invaluable. Product feedback and discussions about operational improvements, installation techniques, industry trends, and other areas help us become a better manufacturer and in turn help our customers become better roofing contractors."
In 2010, Duro-Last had a sales increase of 6.6% over 2009; 23 Duro-Last contractors had sales over $1 million each, led by Parsons Commercial Roofing of Waco, Texas. This was the fifth consecutive Seminar where Parsons was honored as the Duro-Last Contractor of the Year. Parsons exceeded the $7 million sales threshold for the fourth year in a row, and in 2010 surpassed $7.5 million – the first authorized Duro-Last contractor to reach that level.
Also at the Seminar, Duro-Last introduced several new products, including a standing seam metal roofing line and the Duro-Last Fleeceback™ System.
Since the company's beginning, Duro-Last has valued community involvement, and for the second straight year, it's "Partners in Goodwill" program recognized contractors who have been active in making the world healthier, safer, and stronger. The honorees at this year's Sales Seminar were Tomkat Roofing of Streator, Illinois; Slagle Roofing and Construction of Finleyville, Pennsylvania; Roof Management of Farmington Hills, Michigan; Nohava Construction of LeMars, Iowa; and Kelly Roofing of Naples, Florida.
The 2012 Duro-Last National Sales Seminar has been scheduled for January 29 – 31, at the Hilton Clearwater Beach Resort in Clearwater Beach, Florida.
With corporate headquarters and a manufacturing facility in Saginaw, Michigan and other locations in Grants Pass, Oregon; Jackson, Mississippi; and Sigourney, Iowa, Duro-Last Roofing, Inc. is the manufacturer of the "World's Best Roof"®. Since 1978, Duro-Last has produced a custom-fabricated, thermoplastic single-ply roofing system that is ideal for any flat or low-sloped commercial or industrial building. Energy-efficient and extremely durable, the Duro-Last roofing system is also leak-proof, virtually maintenance-free and resistant to chemicals, fire, punctures, and high winds. In addition to the Duro-Last roofing system, the company's brands include the Duro-Last Cool Zone®, Duro-Shield® Metal Retrofit, Duro-Last Designer Series roofing systems, and Duro-Last Fleeceback™ System. For more information, contact Fred Sitter at 800-248-0280 or visit http://www.duro-last.com.
###