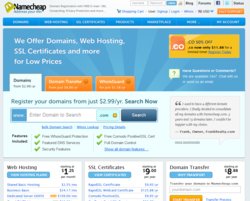 Los Angeles, CA (Vocus/PRWEB) February 17, 2011
Namecheap.com, one of the top domain name registrars in the world, has redesigned its website with much improved functionality. The new website features a colorful and friendly design with many tweaks to improve usability.
"Our customers have been requesting new features, and we're listening," Richard Kirkendall, CEO of Namecheap said. "We created our new website to improve upon the user experience from buying domains to managing them and beyond. We're beyond thrilled for our redesign and are confident it serves our customers and their needs. We're always looking to improve and are receptive to feedback to make it even better!"
The new design, spearheaded by Namecheap's CTO Mohan Vettaikaran and his team, offers a great deal of improvements over the previous version, including basic organization of products and services. Domains are easier to buy, web hosting is easier to find, and SSL certificates offerings are also easy to review and navigate. Each product page has tabbed navigation, and on web hosting and SSL certificate pages, features are listed side by side for easy comparison.
The new site integrates Namecheap's well maintained knowledgebase and API documentation and also enhances marketplace listing information pages, allowing Namecheap customers to buy and sell domains with ease. The new Namecheap.com also has better WHOIS integration, allowing people to find out owners of domain names.
Additionally, many frequently requested features have been implemented. The redesign enables customers to pay directly by PayPal instead of adding funds directly to the account. It also gives customers the option to view prices in different currencies and lets them to save their shopping cart for later. The site has a streamlined checkout process that lets domain buyers set different options per domain if needed as well.
With the new website launch, Namecheap now offers more web hosting packages and SSL certificates, positioning the company as a clear one-stop shop for all internet business needs. "Our goal is our customer, and we want to service them at every step of the way," Kirkendall said.
About Namecheap
Namecheap is a Los Angeles-based ICANN accredited domain registrar founded in 2000 by CEO Richard Kirkendall. With over 500,000 clients and millions of domain names under management, Namecheap is one of the top domain registrars in the world. Find out more by visiting us at http://www.namecheap.com.
# # #