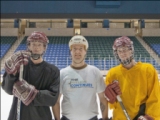 "Fellows are fulfilling their potential as leaders, and improving countless lives through their work each day across our country."
-First Lady Michelle Obama
St. Louis, MO (Vocus/PRWEB) February 17, 2011
This week, First Lady Michelle Obama recognized the work of The Mission Continues, an award-winning national non-profit organization whose mission is to enable every returning wounded veteran to serve again as a citizen leader. The First Lady sent a letter to congratulate the organization on awarding its 100th fellowship.
The organization's 100th fellowship was awarded to Captain Sean Donahue, an Army veteran residing near Boston, Massachusetts. Donahue, a graduate of the United States Military Academy and a varsity athlete, was stationed in Fort Benning, Georgia when he was involved in a life-threatening vehicle accident. Captain Donahue suffered from a Traumatic Brain Injury, a broken pelvis and fibula, and a lacerated spleen and liver. After spending 18 months in a rehabilitation center, Sean was medically retired from the military in 2006.
After spending four years feeling lonely and frustrated without the structure of his unit, Captain Donahue found The Mission Continues. Today, he is utilizing his fellowship to fulfill his leadership potential by serving as a volunteer hockey coach for Lowell High School in Lowell, MA.
The Mission Continues Fellowship Program provides post-9/11 wounded and disabled veterans the opportunity to regain purpose in their lives after the military service has ended. It also provides veterans with the opportunity to translate their military experience into civilian skill sets, while earning a modest living stipend. A typical fellowship covers 14 to 28 weeks, during which the Fellow serves his or her community through a local charitable organization.
The First Lady recognized the importance of The Mission Continues' innovative program, stating, "For many of those brave women and men, service is the air they breathe… By providing wounded and disabled veterans a path back to service, The Mission Continues fellowship program is helping those heroes regain a sense of purpose beyond their time in uniform. Fellows are fulfilling their potential as leaders, and improving countless lives through their work each day across our country."
Without opportunity to live a life of purposeful service, many wounded veterans withdraw, unable to find their place in society. Captain Donahue's father, Bill Donahue, described his son as lonely and frustrated before discovering The Mission Continues. "Before, Sean was just sitting at home. His only enjoyment was playing with [our] dogs," Donahue said. "Now, Sean gets excited about going to [hockey] practice. His involvement has greatly helped his demeanor, and the kids on the team are really benefitting as well. He's a great role model."
Sean is using his experiences as a leader, both on the ice and in the military, to teach his players discipline and self-esteem. While Sean continues his transition to civilian life, he hopes to inspire the team to community service, leading by example.
"In order to grow stronger and make oneself better, it is important to help all those who need help. I know from personal experience that helping others always gives me a rewarding feeling," Sean said. "Not too long ago, I was the one who needed a helping hand. It is now my intention to give back to anyone in need."
The Mission Continues aims to award an additional 100 fellowships to wounded and disabled veterans in 2011.
About The Mission Continues
The Mission Continues is a national nonprofit organization with a mission to build an America where every returning veteran can serve again as a citizen leader. Founded in 2007 when Navy SEAL Eric Greitens returned from Iraq, the organization offers paid service fellowships to wounded and disabled veterans, awarding over 100 fellowships in 22 states to date. In addition, The Mission Continues has mobilized 14,772 civilian and veteran volunteers to complete 255 service projects across the nation. For more information about The Mission Continues, please visit http://www.missioncontinues.org.
# # #