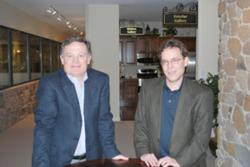 (Vocus/PRWEB) February 17, 2011
Jon Penders, Director of Acquisitions and Planning at Rouse Chamberlin Homes was named Employee of the Year for 2010. Jon is a sixteen-year employee at Rouse Chamberlin Homes and active in home-ownership related community activities.
"It's hard to imagine a more challenging time in the business of new home construction," observed Rouse Chamberlin President Dave England. "Jon has made a huge difference in our operations from both a cost-reduction and an income-generation perspective. He is the best in our industry at what he does and we are proud of his many accomplishments."
Jon procures land that will later be sub-divided and serve as the basis for the future communities Rouse Chamberlin develops. He works cooperatively with local municipalities to design and create quality neighborhoods.
"I am grateful to have a place that I love going into work each day," noted Jon. "My job offers me the opportunity to have a significant impact on our company operations. At the same time, my efforts and those of everyone in Rouse Chamberlin Homes makes it possible to offer reasonably priced housing to families in our community. That is an incredibly fulfilling role to play."
During the last several years, Jon's role has expanded to assisting banks with maximizing asset recovery. That includes both serving as an advisor and as a purchaser of non-accruing assets. "Rouse Chamberlin has become a builder of choice to assist banks in resolving troubled assets. We have a proven history of understanding the many challenges and finding solutions to complicated situations."
As part of his commitment to the industry, Jon has served on the Board of the Housing Partnership of Chester County for the past ten years. The partnership offers programs to assist low and moderate income families to promote home ownership. Jon is also a co-organizer and continuing participant of a fundraiser honoring the memory of local building project manager Lou Schisler and raising funds for trade scholarships to the Williamson Trade School.
Jon holds a graduate degree from University of Pennsylvania in Urban Planning and an undergraduate degree from Columbia University. He has been a Delaware County resident for over 13 years.
Since 1978, Rouse Chamberlin Homes has been building homes and thriving neighborhoods focused on the home buyers' needs. The result has included exceptional customer satisfaction results and industry recognition including "National Builder of the Year" and "America's Best Builder" awards. For more information, visit http://www.RouseChamberlinHomes.com.
# # #