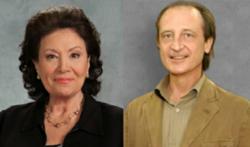 New York, NY (Vocus/PRWEB) February 17, 2011
Entrepreneurs, corporate professionals, experts in their field and even celebrities may want to explore the just-launched website, ghostbooksters.com. There, accomplished writing partners Judy Katz and Greg Lawrence showcase their proprietary formula for helping people actualize their inner book in order to enhance their public persona.
The hosts hold distinct publishing accomplishments. Katz has ghostwritten and/or collaborated on 22 books in the past six years. Lawrence is a New York Times best-selling author whose latest book, Jackie as Editor: The Literary Life of Jacqueline Kennedy Onassis (Thomas Dunne Books, St. Martin's Press, Jan. 2011) has already received top-tier rave reviews.
In today's world, a book can serve as a differentiator. However, composing a good book requires not just a good story, but also natural talent and time-tested writing ability. "A poorly written book can be a public relations disaster," says Katz, who also happens to be a long time public relations executive. "We work backwards by starting with the author's wish list and expectations."
As Lawrence explains: "Earning trust through interviews, we help clients hone not just the subject of the book, but the larger context of compelling and inspirational lessons to be shared. We tease out the memories, insights and secrets that make a book compelling." "It's both an art and a science," he adds.
If you want to explore the possibilities of making your dream of authoring a book a reality, you can begin by exploring the site and reading the "Ghost Posts," which offer sage advice on how to find and work with a ghostwriter, when to self-publish, what costs to expect, how to market your book, and much more.
Not everyone expects, or needs, a bestseller. Perhaps the goal is a business profile, a legacy to your family, memoirs that share insights into a meaningful life, a novel waiting to be told, or poetry that needs context. If you are inspired and ready to start your journey to authorship, visit http://www.ghostbooksters.com.
# # #