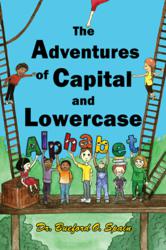 Sarah, MS (Vocus/PRWEB) February 18, 2011
The Adventures of Capital and Lowercase Alphabet, a new book by Dr. Bueford O. Spain, has been released by RoseDog Books.
This book is about giving culturally deprived children, especially African-American children, a head start on vocabulary skills and alphabetic knowledge. While working with students, Dr. Bueford O. Spain found that a large number of students enter the school of knowledge with little or no basic skills.
Blessed with a granddaughter to care for at a very early age, Dr. Spain grasped the opportunity to see how much she could learn and how early—thus the alphabet book was brought into reality. Each night at bedtime, we would curl up and read stories from the adventures of capital and lowercase alphabets. While reading the stories, we would pause to ask and answer questions about the characters and alphabets in each story. By the age of three, his granddaughter knew the entire alphabet, had a fantastic vocabulary, and could read simple books.
Dr. Spain's granddaughter is now in the second grade, reading over a hundred books a year, and she has a 4.5 reading level. Her granddaughter loves to read, and she is already writing her own stories. The alphabet book is a bedtime or story time reading book. Reading this book often and consistently to young children will produce marked results in children's basic and advanced reading skills.
Although Dr. Bueford O. Spain is the product of uneducated parents, he graduated from North Panola High School with honors. With the aid of a student loan and the work-study program, Dr. Spain received a B.S. degree from Alcorn State University. While teaching school, he managed to receive an M.A. degree in special education and a specialist degree in administration and supervision from Memphis State University. In his latter years, working as an elementary school principal, he attended Delta State University and received a doctoral degree in professional studies.
Dr. Spain is married with two wonderful and successful daughters and a lovely granddaughter, who inspired the writing of this book. He is also an ordained minister and after working with the public school system for forty years, I retired to become the fulltime pastor of the Church of God in Clarksdale, MS, with a B.S. degree in Christian studies.
The Adventures of Capital and Lowercase Alphabet is a 120-page hardcover with a retail price of $54.00. The ISBN is 978-1-4349-8134-9. It was published by RoseDog Books of Pittsburgh, Pennsylvania. For more information or to request a review copy, please visit our virtual pressroom at http://www.rosedog.com/pressroom or our online bookstore at http://www.rosedogbookstore.com.
# # #