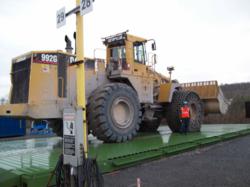 This system has been in service for 8 years and has only shown minimal signs of degradation, The systems robustness is a big advantage!
Salt Lake City, UT (Vocus/PRWEB) February 22, 2011
Because the CONEXPO show is only every three years, we make it our biggest and best show ever! Whether you're washing small or extremely large equipment and vehicles, we will be showing you how to wash, collect and recycle your wash water economically and in an environmentally friendly way.
What you will see at CONEXPO:

Hydroblaster hot pressure washer
Hydrokleen wastewater recycling equipment
Hydropad steel equipment wash rack
Water cannon, hi water flow equipment washing
Hydrosite portable equipment enclosure
This entire wash rack system was set up and operational in 2 days!
Historically, all types of vehicles and equipment have been washed on a surface made of concrete with in-ground collection pits; the alternative is our Hydropad above ground steel wash rack.
Concrete equipment wash pads require architectural design, PE stamp, a building permit and bids from contractors to build the wash rack. Once the construction of the concrete wash rack is completed, it becomes a permanent fixture.
Hydro Engineering's steel, above ground equipment wash racks do not require; an architectural design, permitting or construction of any kind. Hydropad instant wash racks are equipment and not a capital construction project. An above ground wash rack can be permanent or moved when required.
The Hydropad above ground wash racks work much like a home roof and gutter system. As equipment washing takes place (on the roof), the water and solids fall onto the Hydropads water proof surface and flow to the side gutter which is placed on the down slope side of the Hydropad. The waste water, dirt, oil and grease will flow through uniquely patented channels in the Hydropad top surface to the side gutter. The side gutter is where separation of solids from wastewater begins. The patented side gutter also allows for continuous wash operations with no interruption for gutter cleaning because the gutters are not in the above ground wash rack's work surface.
Hydropads can be placed on an improved or unimproved, fairly level surface. The Hydropads have a new simple connection system, which makes connecting Hydropads modules together fast and yet extremely secure. It's like building a bridge. From the smallest to the largest equipment wash requirements, Hydropads fit the application.
CONEXPO-CON/AGG is the international gathering place in 2011 for the construction industries. Held every three years, the exposition showcases the latest equipment, products, services and technologies. Plan on seeing our entire wash rack system at CONEXPO 2011, Las Vegas Nevada, March 22nd-26th, Gold Lot #310.
# # #