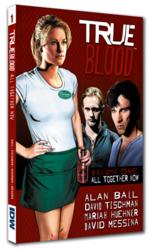 "We couldn't be more pleased with the amazing success of the comics and are excited that the release of the comic collection will make the series even more accessible to fans." - show creator Alan Ball
San Diego, CA (Vocus/PRWEB) February 16, 2011
IDW Publishing and HBO are pleased to announce the launch of the first hardcover, True Blood comic collection, TRUE BLOOD: ALL TOGETHER NOW. This compilation of all six issues from the first series of the mega-hits comics will also feature bonus content, including a cover gallery, and is now available in bookstores throughout North America.
"We couldn't be more pleased with the amazing success of the comics and are excited that the release of the comic collection will make the series even more accessible to fans," stated show creator Alan Ball.
Featuring the same erotically-charged romance, wry humor, intriguing mystery and suspense the show has become known for, the story treats readers to new insights of their favorite characters. Blood and sex mix on a hot rainy night at Merlotte's, when Sookie and her friends are trapped by a vengeful spirit who feeds on shame. People die and dirty secrets are revealed as Sookie, Bill, Eric, Sam, Tara, Jason, and Lafayette are all coerced to dig deep and tell painful memories from their past.
Developed with show creator Alan Ball, along with series writers Elisabeth Finch and Kate Barnow, ALL TOGETHER NOW was co-written by David Tischman and Mariah Huehner. The series was beautifully illustrated by top tier artist David Messina, with additional art by renowned artists J. Scott Campbell, Joe Corroney, and Andrew Currie.
In addition to the print editions, the comic collection and individual comics are available digitally through Sony's Digital Comics Store and Apple's iTunes Store.
TRUE BLOOD: ALL TOGETHER NOW ($24.99, 160 pages, hard cover, full color) will be available in stores in February 2011. Diamond order code DEC10 0370; ISBN 978-1600108686.
TRUE BLOOD comics are available for the iPad, iPhone and iPod touch through the Apple iTunes store here: http://bit.ly/cioAWb
TRUE BLOOD comics are available for the Sony PSP through the Sony Digital Comics store here: http://bit.ly/fKNzWV
Visit IDWPublishing.com to learn more about the company and its top-selling books.
About IDW Publishing
IDW is an award-winning publisher of comic books, graphic novels and trade paperbacks, based in San Diego, California. Renowned for its diverse catalog of licensed and independent titles, IDW publishes some of the most successful and popular titles in the industry, including: Hasbro's The Transformers and G.I. JOE, Paramount's Star Trek; HBO's True Blood; the BBC's Doctor Who; and comics and trade collections based on novels by worldwide bestselling author, James Patterson. IDW is also home to the Library of American Comics imprint, which publishes classic comic reprints; Yoe! Books, a partnership with Yoe! Studios; and is the print publisher for EA Comics and ComicMix. 
IDW's original horror series, 30 Days of Night, was launched as a major motion picture in October 2007 by Sony Pictures and was the #1 film in its first week of release. More information about the company can be found at IDWPublishing.com.
About HBO Licensing & Retail
HBO Licensing & Retail awards official HBO licenses throughout the world for the development and merchandising of innovative product lines which are inspired by the television broadcaster's award-winning programs.
© 2010 Home Box Office, Inc. All Rights Reserved. HBO and related service marks are the property of Home Box Office, Inc.
Apple, the Apple logo, and iTunes are trademarks of Apple Inc., registered in the U.S. and other countries. App Store is a service mark of Apple Inc. Content purchased from the iTunes Store is for personal lawful use only. Don't steal music.
###