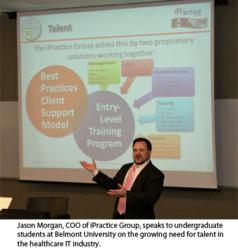 Nashville, TN (Vocus/PRWEB) February 18, 2011
After establishing an innovative Employer-in-Residence program with Belmont last month, iPractice Group swiftly began building on the new partnership. On Wednesday, COO Jason Morgan visited the campus to speak with undergraduate students about the burgeoning healthcare IT industry.
With Congress allocating billions in incentives to help the nation's doctors adopt electronic health records (EHR) systems, HIT is expected to grow significantly through 2019. That growth will mean ample career opportunities in the years to come, especially for those who get into it early.
"As the health IT industry surges, the most valuable professionals will be those with the most experience," said Morgan. "As the number of positions increases, so too will positions in management for these same professionals and entry-level opportunities will begin flourishing for new graduates. While the health IT job market remains strong today, existing specialists will find it's 'up or out' as emerging professionals replace them."
With EHR adoption a national goal, funds have even been authorized to help colleges offer degree programs in healthcare information technology.
Remarked Morgan, "It's going to be a fruitful job market for the foreseeable future."
iPractice Group, a Nashville-based HIT startup that Morgan co-founded with business partner and CEO Ting Chang, intends to hire up to 100 new employees by the end of 2011. The company hopes its new partnership with Belmont will develop a pipeline for identifying talent in the fields of finance, sales, marketing, and IT.
Belmont's staff was thrilled with the turnout, which saw students taking spots on the floor after all the seats were filled. Morgan's speech Wednesday was the second in iPractice Group's series of scheduled campus events to generate student interest in HIT careers. The company is also planning to send guest lecturers to applicable courses, host an information session, and hold on-campus interviews later in the semester.
About iPractice Group:
iPractice Group provides all-inclusive IT services for small group and solo medical practices in the Nashville area and surrounding counties. They have developed a turnkey solution for integrating Electronic Health Record, Practice Management, hardware, service and support, all into a complete package that physicians need to become more efficient, compliant, and profitable. iPractice Group is located at 51 Century Boulevard, Ste 125, Nashville, TN, 37214. For more information on iPractice Group, visit http://www.iPracticeGroup.com.
About Belmont University:
Ranked in the Top 5 in the Regional Universities South category and named for the third year as one of the top "Schools to Watch" by U.S. News & World Report, Belmont University is a fast-growing community of more than 5,900 students who come from every state and 25 countries. Committed to being a leader among teaching universities, Belmont brings together the best of liberal arts and professional education in a Christian community of learning and service. The university's purpose is to help students explore their passions and develop their talents to meet the world's needs. With more than 75 areas of study, 20 master's programs and three doctoral degrees, there is no limit to the ways Belmont University can expand an individual's horizon. For more information visit http://www.belmont.edu.
# # #