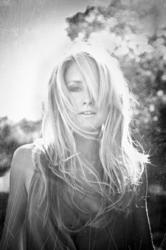 "You have to believe in yourself when no one else does. That's a lot to ask of yourself but everyone can."
Sweet Briar, Va. (Vocus/PRWEB) February 17, 2011
So, who is Stephanie Quayle? She is an up-and-coming country singer who writes and performs her own brand of fun, sometimes reflective but often rollicking Americana. She is also the talent behind "Sweet Briar Woman," the song featured on the College's recently released video for prospective students.
Her music is original and undeniably country — yet appeals to non-enthusiasts. Think something between the sound of Gretchen Wilson and a whole panoply of iconic influences — Aretha Franklin, Stevie Nicks, Alison Krauss and Loretta Lynn. "I love women who can sing — and sing and sing and sing," Quayle says, laughing.
She has no musical idols, however. She is moved by the songs and the voices, citing favorites from Dolly Parton (whom she most admires as a person) to Led Zeppelin and lead singer Robert Plant.
Quayle's commission to compose the music for the Sweet Briar film was not accidental. She is an outspoken and sought-after advocate for women and girls whose music celebrates a tough work ethic, self-reliance and being at ease with who she is.
The autobiographical "Alley of Desires" on her first album, "Ain't No Housewife," is a fast-paced, toe-tapping anthem for the independent artist. It chronicles Quayle's rejection of the star-making conventions of the Los Angeles music scene to find success her own way: "Got hired and fired /From the alley of desires / Told to sell my soul / For a life of fame and gold / My heart said no / So I took another road / This road is a little longer / But my heart is getting stronger."
In the refrain, Quayle says, "I'm living the dream … It's up to me / To walk this dream."
Those kinds of lyrics caught the attention of California first lady Maria Shriver, who invited Quayle to the 2009 Women's Conference. A year later she performed at the 2010 conference before 14,000 people, sharing a stage with Oprah Winfrey and Mary J. Blige.
Using music to inspire others comes naturally to the Montana native, who recently moved home to Bozeman and splits her time between there and Nashville, Tenn. But after a personal loss two years ago, communicating through her art took on new meaning.
"That's when things started shifting for me as a person," she said by phone from Los Angeles. She was there to record a song she collaborated on with the father of a Marine killed in Afghanistan. She plans to perform the song at Marine Corps Base Quantico in May.
"It can't just be about success," she says. "We all have a story, we all have a moment in our lives that stopped us in our tracks. And if you haven't, it's good to know it happens so you can have empathy [for others]."
In her music and when she talks to audiences, enduring through difficulty and the mantra to "be who you are" emerge as themes. "In L.A., I was offered a lot of opportunities to be what people wanted me to be," says Quayle, who is working on her second album this spring.
At 19 and without a plan, she went along — at first. "I just wasn't trusting it," she says. "I had people telling me to put down my guitar and dance."
At 31 Quayle wonders if she had had someone like herself — a little older, a little wiser mentor — when she was growing up, what she would have done differently. Would she listen? She asks that question in "Sophia," her most popular song. And it's the reason she feels she has something to say to young women.
"You have to believe in yourself when no one else does. That's a lot to ask of yourself but everyone can."
Web links:
"A Sweet Briar Woman: An Introduction" (video): http://www.youtube.com/user/Sweetbriarcollege
StephanieQuayle.com: http://stephaniequayle.com/home.php
Sweet Briar College is a nationally recognized all-women's liberal arts and sciences college near Lynchburg, Va. Information is available at http://www.sbc.edu.
# # #