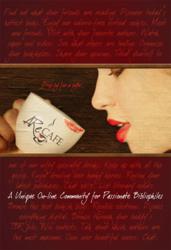 Palm Harbor, FL (Vocus/PRWEB) February 17, 2011
The veil of secrecy surrounding ARe's new endeavor was lifted this week at the Tools of Change Conference in New York. Customers received their first hint about the nature of the ARe Café when a tab appeared on the company's website a few months ago. The welcome page for ARecafé.com invites booklovers to "Stop by for a byte" and Lori James, the company's co-owner and Chief Operating Officer had previously described the Café as "A Unique On-Line Community for Passionate Bibliophiles". During Tuesday's Bookselling in the 21st Century panel, more details were revealed.
The Café will cater to readers, authors, bloggers, and publishers. If you love books, you are going to love the Café. With carefully curated news, aggregation of relevant commentary, reviews, events, real-time information about what is selling, a robust social network, and a virtual library where readers can organize their books and share recommendations, there is something for everyone. And it is all centered within a full-service digital bookstore.
Thus far the Café has only been accessible to a select group of invite-only Beta users affectionately called the "First Byters". It is expected to open to the public in March.
About All Romance eBooks, LLC
All Romance eBooks, LLC was founded in 2006, is privately held in partnership, and headquartered in Palm Harbor, Florida. The company owns AllRomance.com, which specializes in the sale of romance eBooks, OmniLit.com, which sells both fiction and non-fiction eBooks, and AReCafe.com, a unique on-line community for passionate bibliophiles.
###