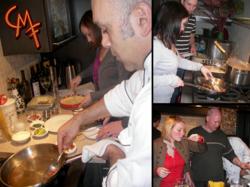 "Yes, absolutely cooking can save a marriage. Cooking is a conduit for passion and life. This is a beautiful way to strengthen your relationship."
Milwaukee, WI (Vocus/PRWEB) February 17, 2011
Chef Michael Feker is a culinary innovator who has made it his mission to get people back to the dinner table; from his restaurant, IL MITO Enoteca, to his state-of-the-art cooking school, CMF's School of Culinary Magic he strives to make healthy cooking accessible to everyone. He has announced a new mission, to get Couples Cooking.
Saturday, February 12, 2011 Chef Feker hosted a hands-on luncheon geared towards Couples: Couples that Cook Together Stay Together. With nearly 40 to 50 percent of all marriages ending in divorce, Chef Feker feels this class shall "ignite a new passion in my guests." With recipe in hand, participants worked in small groups to prepare their meal: Chef Feker's Famous Fettuccine Carbonara: (a feared recipe that Chef Feker feels can easily be conquered with a bit of culinary knowledge, teamwork, problem solving, communication and knowing your strengths and weaknesses), then indulge in their creations while enjoying a nice glass of wine.
"I have been blessed with my passion for life that I manifest through food, but to be able to absorb more I need to share some. I do that at my Chef's Counter through my demonstrational and hands-on cooking classes. This gives me a chance to answer the complicated unknowns, and make cooking a joyful experience."
Chef Feker hosts monthly gourmet beer and wine tastings, hands-on and demonstrational luncheons, as well as private lessons for individuals or couples. To learn more about this event and other culinary opportunities, explore http://www.ilmito.com
About IL MITO Enoteca
IL MITO Enoteca, rated in the Top 50 Italian Restaurants nationwide, was born from Chef Michael Feker's craving for a local restaurant comparable to those he frequented in Italy - a comfortable home away from home, where you can sip a great glass of wine, complemented by an incredible, rustic Italian cuisine. He created a menu made with the freshest, highest-quality ingredients that create amazing, complex rustic flavor combinations with a mission to get his guests addicted to an unforgettable dining experience.
About Chef Michael Feker
James Beard-nominated Chef Michael Feker works as an ambassador to those who wish to explore the culinary world with him in his restaurant, IL MITO Enoteca, or at his Culinary Studio, Chef Michael Feker's School of Culinary Magic, both located in Milwaukee, WI. His most recent achievements include a partnership with Washington High School of Technology working with Michelle Obama's Chef's in Schools program; weekly appearances on various media channels; Milwaukee's Business Journal named Chef Feker a pioneer in Social Media for his unique efforts in presenting himself and his passion for food; blogs and vlogs, which promote his healthy flavor revolution; Chef's Counter Dinner Parties at his Culinary Studio where he uncovers the complicated unknowns of cooking while preparing your dinner before your very eyes; consulting work for the likes of Regal Ware World Wide, Fagor, Aurora Health Care, Milwaukee's Hunger Task Force, the WI Cranberry Association and WI Pork Association. Chef Feker also offers a premier catering service providing extraordinary dining experiences from weddings to charity events like Ann's Hope to Patron Tequila's Secret Dining Society.
###