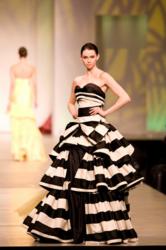 Los Angeles, CA (Vocus/PRWEB) February 17, 2011
Each year, FIDM/Fashion Institute of Design & Merchandising hosts the exciting DEBUT Runway Show at The Barker Hangar in Santa Monica, California. The unforgettable show is the only one of its kind on the West Coast and it annually attracts more than 8,000 people over three days. DEBUT features designs by graduating students in FIDM's Fashion Design and Theatre Costume Design Advanced Study Programs as well as work from the Interior Design, Graphic Design, and Textile Design Students.
High school juniors, seniors, and graduates are invited to attend the DEBUT 2011 Runway Show and Los Angeles Open House on Friday, March 18, 2011. Beginning at 11:00 a.m., students will receive a tour of FIDM's award-winning campus, get up close and personal with incredible costumes at the Hollywood Costume Exhibition at FIDM's Museum & Galleries, and enjoy lunch. FIDM Graduates and other members of the FIDM community will be on hand to answer questions and give career advice.
Students will then be transported to DEBUT (there is no parking at the venue), which is a unique fashion event that attracts celebrities, accomplished Graduates of FIDM, and FIDM supporters. The event will conclude around 7:00 p.m. and Students will arrive back at FIDM Los Angeles around 8:00 p.m. For more information or to buy non-refundable tickets ($10), which benefit OXFAM America, please visit the DEBUT 2011 Runway Show Page. Students may purchase tickets for up to two guests (three tickets total) and must make their own hotel and transportation arrangements to the FIDM campus.
With four dynamic California campuses, FIDM/Fashion Institute of Design & Merchandising is the premier west coast fashion design college, educating for careers in fashion, graphic design, interior design, and entertainment. FIDM's graduates include renowned fashion designers like Monique Lhuillier, Emmy® and Academy Award® award-winning costume designers, top fashion industry executives, and entrepreneurs.
###