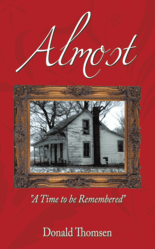 San Diego, CA (Vocus/PRWEB) February 21, 2011
Forget Facebook. Text messaging? BRB. No Netflix, vanished videogames. Travel back to a simpler time, a time when young people stayed tuned in through radio and comic books, and follow one young man as he matures through the years in Almost: "A Time to be Remembered" (published by AuthorHouse), the thoughtful new memoir by Donald Thomsen.
Everyone is familiar with tales about older relatives walking miles uphill both ways to school and how easy kids today have it, and bookstore shelves are lined with ho-hum accounts of lives filled with tragedy and loss that seem to find no greater ultimate meaning. Thomsen immediately sets himself apart with his conversational, lighthearted tone, writing:
In the back of my mind, I've had this dark, contrived recollection of my childhood as being isolated, poverty stricken, and deprived of modern conveniences which retarded my growth and development as a child and teenager. Upon reflection, that previous conception couldn't be farther from the truth. My childhood and adolescence was . . . priceless!
Donnie, as he's known throughout the book, took every opportunity to explore and let his imagination run wild growing up in rural Nebraska and gives a lively portrayal of his adventures in the late 1930s, '40s and early '50s. Like most of the country, his small farming community was poverty-stricken in the wake of the Depression, but people made do the best they could and Donnie grew up instilled with good morals and a strong work ethic.
After his mother got a job working at the dry goods store in town, Donnie found himself left to his own devices, and he spent much of his free time visiting local businesses and learning their operations. Even as a young man, Donnie knew he didn't want to follow the family farmer tradition and was eager break the mold and become a successful businessman.
The success that Donnie would enjoy later in life is directly related, he believes, to his upbringing. "I was raised in a society where self sufficiency was paramount," he writes. "If a problem presented itself, you handled it. If the problem was beyond your capability and resources to cope with, you had a support group ready to step in and assist, many times without being asked."
By age 17, Donnie was ready to see the world and begged his parents to let him join the Navy. They acquiesced, and, with his life savings of $145.00, Donnie headed out on his own. Join him on a series of trials and tribulations prior to his military service as he works a series of jobs and makes various entrepreneurial attempts. His beloved comic books will come in handy to teach him a little ingenuity along the way in Almost. Laugh and learn in the pages of this charming new memoir.
For more information, visit http://www.donaldthomsen.com.
AuthorHouse is the leading provider of self- publishing, marketing, and bookselling services for authors around the globe. For more information, visit http://www.authorhouse.com.
**FOR IMMEDIATE RELEASE**
EDITORS: For review copies or interview requests, contact:
Marketing Services
Tel: 888-519-5121
Fax: 812-961-3133
Email: pressreleases(at)authorhouse(dot)com
(When requesting a review copy, please provide a street address.)
###