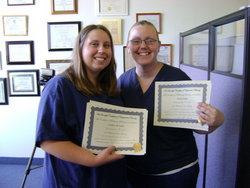 This is a most wonderful opportunity that I can offer to medical health-care professionals in Michigan - to get a nationally recognized certificate in cardio-phlebotomy. We also have national approval for our ECG, and online phlebotomy courses
Garden City, MI (Vocus/PRWEB) February 17, 2011
The new Cardio-Phlebotomy Technician Course is now being offered at Phlebotomy Career Training School in Garden City, Michigan. The program consists of six weeks of intensive study covering subjects such as anatomy and physiology, heart rhythm interpretation, advanced phlebotomy procedures, applying 12 lead electrocardiograms, knowledge of tubes, intravenous insertions, P.I.C.C. Line, Central line flushing techniques and Cardiopulmonary resuscitation with first aid through the American Heart Association. Students are given individual instruction in performing venipuncture. Students are allowed to obtain twenty five successful draws under the supervision of Registered Nurses and Certified Phlebotomy Technicians at the school. These sessions are scheduled on specific days for beginners and advanced students.
Once students are finished with their twenty five draws and fifteen capillary draws, they are then given the opportunity to complete a forty hour externship with a local laboratory. During their externship, students will work closely with an experienced phlebotomy technician. They will learn the procedure for DNA testing firsthand. Students will gain experience performing venipunctures on infants, children, adults and the elderly. They will learn how to enter patient's information in computers and process lab requests. It is no wonder that Phlebotomy Career Training has the highest success rate in students finding work as phlebotomy technicians and as Cardio-Phlebotomy Technicians. They get real world hands on experience.
Graduates of the new Cardio-Phlebotomy Technician program have many job opportunities ahead of them. They can work as phlebotomy technicians in hospitals and labs. Graduates are also trained to work side by side with Cardiologists performing electrocardiograms, assisting with heart catheterizations and interpreting rhythm strips. Graduates of this program are able to work in dialysis centers as well as in outpatient phlebotomy labs.
The instructors at Phlebotomy Career Training have over twenty plus years of experience in the medical and teaching profession. Classroom instruction includes hands on demonstration and lecture. Students learn in a dynamic and challenging atmosphere. Instructors credentials include; Registered Nurses, Certified Phlebotomy Technicians and PhD's. Each instructor is dedicated to helping student's achieve success in their academic and professional performance as qualified health care providers.
Phlebotomy Career Training is a licensed proprietary school in the state of Michigan. Phlebotomy Career Training has won approval of its curriculum from Michigan Works and the Michigan J.E.T. Program for Welfare and Human Services. Professor Kimmel is the administrator and instructor at the school.
Professor Nancy Kimmel offers numerous online courses and tutorials to help aspiring medical professionals pass their tests successfully the first time in the classroom as well as online, including: Advanced Phlebotomy Technician Certification Online, Hazardous Materials Handler Online Course, EKG/Telemetry Technician Online Course, Pass The N.E.T. Reading Comprehension Pass The N.E.T. Math Review, Pass the NET - Nursing Entrance Test Study Guide, and online Certified Nursing Assistant training course.
The new Cardio-Phlebotomy Technician Program at Phlebotomy Career Training in Garden City, Michigan will prove to be an exciting and rewarding course for those who enroll. Students with this certification will be able to choose from many exciting job opportunities in the medical field. Graduates of the Cardio-Phlebotomy Program have such a broad horizon of jobs to from which to choose.
###