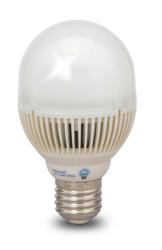 Van Nuys, CA (Vocus/PRWEB) February 16, 2011
Matrix Lighting Inc, manufacturer of VIRIBRIGHT LED lamps has been invited to showcase their innovative LED lighting products in the Green Technology Exhibition at the upcoming UNEP Governing Council/Global Ministerial Environment Forum in Nairobi, Kenya. Matrix Lighting was one of only twenty-three organizations invited to showcase innovative solutions, technologies and capabilities in answer to many of the world's environmental issues. For the second time, UNEP in partnership with Climate Action will be showcasing a Green Technology Exhibition at the 26th session of the Governing Council / Global Ministerial Environment Forum (GC/GMEF). The Green Technology Exhibition will feature innovative technologies such as VIRIBRIGHT which can assist governments and their populations in addressing global environmental concerns.
The GC/GMEF is convened annually by UNEP as the primary forum for Environment Ministers, Permanent Secretaries and other high-level officials to exchange ideas and perspectives on important and emerging issues related to the global environment, particularly in relation to climate change mitigation and adaptation. Environment Ministers and senior representatives from 140 countries will attend the meeting, held at the UN Gigiri Compound in Nairobi on February 21-24, 2011.
VIRIBRIGHT is a brand of affordable LED lamps that offer the mercury free, energy-efficient, crisp, beautiful light you would expect from advanced light bulb technology. With a growing selection of affordable, eco-friendly LED lighting products, VIRIBRIGHT is the next generation in lighting technology. Matrix Lighting's very affordable line of VIRIBRIGHT LED lighting products is appropriate for both residential and commercial use. For more information on VIRIBRIGHT, please visit http://www.viribright.com
Matrix Lighting Inc. is a subsidiary of Matrix Holdings Limited. Matrix Holdings Limited was established in 1979 and has been listed on the Hong Kong Limited Stock Exchange since 1994. Matrix Holdings Ltd. has factories in China and Vietnam with a total of 20,000 employees worldwide.
###