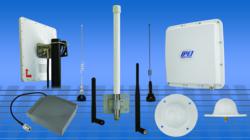 This expansion is something our customers expect from Pasternack
Irvine, CA (Vocus/PRWEB) February 17, 2011
Pasternack Enterprises, Inc., a leading ISO 9001:2008 manufacturer and international supplier of custom and standard RF, microwave and fiber optic products, announces an expanded antenna product line in today's release of their 2011 catalog.
Pasternack has added a wide range of antennas and accessories to their 20,000+ unique RF, microwave and fiber optic products. This expanded product line of antennas also boasts the over 99% in-stock availability status as with the entire Pasternack inventory of cables, adapters, connectors and more. The new 2011, 250 page full-size catalog features various updates along with the recently expanded antenna product line.
This newly expanded antenna product line from Pasternack includes items for most GPS, ISM, PCS, Wi-Fi, WiMAX, microwave, millimeter wave and other applications. Pasternack's increased varieties of antennas are used in a wide range of industries such as aviation, electronics, engineering, military, mining, telecom, transportation and more. Types of antennas now being offered from Pasternack include cellular, dome, high performance, mobile, NMO mount, omni directional, panel, patch, standard gain horn and others.
"This expansion is something our customers expect from Pasternack," says Terry Jarnigan, COO for Pasternack Enterprises, Inc. "One of the primary reasons our customers keep coming back is because of our vast product availability which we are continuously building upon."
The recently expanded antenna selection can be found in today's release of the 2011 Pasternack Enterprises catalog. Visit the Pasternack website at http://www.pasternack.com to request the 2011 catalog and for purchasing information on any of our 20,000+ products. Current pricing and availability of these same-day-build-and-ship products are also available from the website or by contacting Pasternack customer service at: (866) 727-8376.
About Pasternack Enterprises, Inc.
A leader in RF cables, adapters and connectors since 1972, Pasternack Enterprises is an ISO 9001:2008 certified manufacturer and international supplier of RF, microwave and fiber optic products. Pasternack offers off-the-shelf availability and same-day shipment of over 20,000 standard and hard-to-find parts as well as custom cables.
Press Contact:
Ken Vitto
Pasternack Enterprises, Inc.
1851 Kettering Street
Irvine, CA 92614
(949) 261-1920
# # #