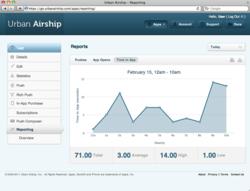 "Marketers need to impact their business bottom lines with mobile apps and to do so they need data and metrics to help them measure app ROI. The data Urban Airship provides helps shape mobile marketing initiatives." —Scott Kveton, CEO, Urban Airship
Portland, Oregon (Vocus/PRWEB) February 17, 2011
Urban Airship, announced at Mobile World Congress in Barcelona, Spain, the availability of two new tools for mobile marketers. Urban Airship Push Composer offers a clean, simple, web-based dashboard so marketers can craft, configure and activate mobile messaging campaigns via in-app push notifications in real-time across multiple mobile platforms. Urban Airship Reports provides quantitative data on user behavior with apps, and by extension, user connection to the brands behind the apps. With Urban Airship's Reports, marketers get relevant insight they can leverage to enhance the value of their mobile app campaigns.
"The time for experimentation on mobile has passed," says Scott Kveton, CEO of Urban Airship. "It's nearly impossible to build a business around a 99-cent app. Apps have to provide ongoing value, both to the user and to the brand. We're giving companies the tools they need to build revenue and meet business goals on mobile with our mobile services platform. With the release of Reports and Push Composer, we're delivering the full spectrum of tools apps need to engage, monetize, scale and track results."
Urban Airship's Reports gives marketers access to quantitative data about their mobile apps and how their app users respond to messaging campaigns. Presented in easy-to-interpret graphics, Urban Airship's Reports will give marketers insight into how their users engage with their brands via their mobile apps. They can monitor such information as how many users opened their messages, what days and times got the largest response, how long users were in the app, and how those activities correlate to notifications sent.
With this data at their fingertips, marketers can better understand the relationship between push notifications and user engagement and refine their mobile campaigns to increase relevance, profitability and user engagement.
According to recent research from Forrester Research, Inc. (2011 Mobile Trends), "Forrester expects marketers around the world to finally allocate dedicated resources to mobile in 2011." The independent research firm forecasts "marketing spend on mobile display ads and search will pass $1 billion in 2011. Marketers will find quantifiable ROI as mobile becomes a medium capable of generating real leads, driving foot traffic into stores, and selling products and services."
"As marketers increase their investments in mobile, the demand for quantitative data grows. Marketers need to demonstrate how their apps impact their P&L," says Kveton. "Our research shows that, increasingly, the business drivers for mobile apps are the business objectives of marketers. Marketers need to impact their business bottom lines with mobile apps and to do so they need data and metrics to help them measure app ROI. The data Urban Airship provides helps shape mobile marketing initiatives, including search, sharing and in-app advertising."
With Push Composer, Urban Airship puts the power of push notifications directly into marketers' hands, giving them the ability to send relevant mobile messages from within the app to users, even when the app is not in use. Push notifications are the most effective way to drive up user engagement with apps, a significant number of which stay unused and unopened on user devices after the initial download. Timely and relevant push notifications bring users back to the app, create ongoing conversations with users and strengthen ties to the brand. By streamlining the process via a browser-based dashboard, Urban Airship eliminates the need for marketers to understand how to make API calls or engage the services of a programmer.
Push composer also allows marketers to craft specific mobile messages to specific groups of users, i.e. they can batch notifications to users in certain locations, on specific devices, on specific platforms, etc. Marketers can also tag users by categories, such as users who have been inactive for a period of time. They can send messages in real-time, instantly, or schedule messages to go out at a time and date in the future.
"We're seeing some very interesting use cases with some of our beta users," says Kveton, who points to the unique properties of the mobile channel to drive users into a call to action exactly when user interest is highest. One of Urban Airship's private beta customers is a professional sports team that uses Push Composer to send game scores and detailed updates as they happen. A team marketer in the press box can bring the excitement of the game to the thousands of the team's fans tracking their team on their mobile device.
Kveton cites the potential for quick polls, such as immediately after a brand's television commercial airs. Marketers could ask for direct feedback from people who have already self-identified with the brand by downloading the app. Marketers can take their mobile campaigns one step further with Urban Airship's Rich Push and actually embed video from the sports match or a clip from one of the brand's ads into the message itself.
In-App Purchase and Subscriptions
In addition to Push Composer and Reporting, Urban Airship recently opened a beta program for Android in-app purchase. With this new service, Android developers will be able to sell content directly from within their applications, presenting a huge opportunity for companies to increase app revenue. According to Urban Airship's recent developer survey one of the most-requested features for Android has been functionality similar to Urban Airship's in-app purchase for iOS, which Android just recently announced. In-app purchase for Android promises to be a rich offering that will open up an app-revenue model that is increasingly popular as companies seek to monetize their mobile offerings.
In-app purchase is the cornerstone of Urban Airship's Subscriptions product, recently added to Urban Airship's drop-in library. Subscriptions provides the infrastructure to deliver the subscription content to multiple devices associated with the end user, a recovery flow for previously purchased content in the event a device is lost or reset, tracking of subscription expirations, and a method for reminding customers about renewals via push notifications.
Urban Airship's Subscriptions tool is currently in use in apps from Newsweek, The Guardian (UK Newspaper), and the Daily Mail with many more in the pipeline.
About Urban Airship
Urban Airship powers the world's most successful mobile apps. Providing breakthrough technology, Urban Airship makes mobile marketing far more engaging, effective, and efficient. Top brands depend on Urban Airship to ensure their mobile app initiatives are scalable and profitable. Verizon, Dictionary.com, Tapulous, and Warner Bros. are just a few of the thousands of companies that utilize Urban Airship's innovative platform to reach and engage target audiences - and increase app revenue streams. Urban Airship puts the power of influence in marketers' hands through push notification, rich messaging, in-app purchases and data tracking with a cross-platform offering. The privately held company is based in Portland, Oregon. For more information, visit urbanairship.com.
###