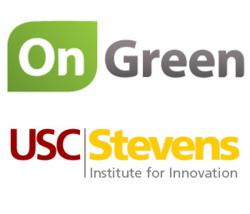 We see our Patent Exchange supplementing USC Stevens' organic technology transfer efforts by improving its patents' online search visibility -- Nikhil R. Jain, OnGreen CEO
Los Angeles, CA (Vocus/PRWEB) February 17, 2011
OnGreen, the leading online marketplace for clean tech investment, announced today it has entered into a marketing partnership with the University of Southern California's Stevens Institute for Innovation (USC Stevens) to include USC's patented technologies with potential clean tech applications and commercialization on its website. OnGreen will host USC's patents on OGPX, its Patent Exchange platform. OnGreen received non-exclusive rights to assist in marketing USC's cleantech-related patents worldwide.
OnGreen recently launched the Patent Exchange to serve early-stage innovators and entrepreneurs holding clean technology patents. The Patent Exchange enables patent holders to describe specific clean technology applications, highlight advantages of the technology, include video, other graphical data and online links in addition to standard patent data and specifications. "The Patent Exchange was built out of the need to provide universities, entrepreneurs and companies increased exposure to a broader global community," said Nikhil R. Jain, OnGreen CEO.
"USC's expertise is in teaching and research. Some of the technologies and inventions we have available for licensing are ready for commercial use today," said Ed Beres, Senior Business Development and Licensing Associate at USC Stevens Institute for Innovation. "But in general, these inventions are still early stage. We are always looking to work closely with investors and entrepreneurs to put together a commercialization strategy or start-up team."
Krisztina "Z" Holly, USC Vice Provost for Innovation and Executive Director of USC Stevens adds, "USC is committed to speeding the transition of new ideas to society, where they can drive new industries and stimulate economic growth. As a result, successful and streamlined technology transfer operations continue to be one of our key priorities."
"We're excited to partner with the USC Stevens Institute and its rich portfolio of intellectual property," says Jain. "We see our Patent Exchange supplementing USC Stevens' organic technology transfer efforts by improving its patents' online search visibility and by leveraging OnGreen's ever expanding reach into international markets. In discussions with Chinese investors, entrepreneurs and companies, for example, we hear repeated interest in technologies that will accelerate the use of clean energy." Ultimately, the Patent Exchange will serve as an effective bridge between untapped users of intellectual property and our academic partners such as USC.
About OnGreen
Los Angeles-based OnGreen is the world's largest greentech marketplace driving money to the most promising cleantech ideas while growing the green economy one deal at a time. To learn more, visit: http://ongreen.com
About USC Stevens Institute for Innovation
Can your idea change the world? At the USC Stevens Institute for Innovation, we believe it can. But for a new idea to make broad impact, it must transition beyond concept into real world implementation and originate from the desire to address untapped real world opportunities. Doing so takes a unique combination of creativity and pragmatism, which we believe can be honed and developed for a lifetime of innovation. Innovation can come from the arts and social sciences as well as engineering or medicine. It can take the shape of new products or services; new ventures, ranging from venture-backed startups to non-profits; as well as new organizational models. The USC Stevens Institute for Innovation (http://stevens.usc.edu) is a university-wide institute in the office of the Provost designed to harness the creative thinking and innovative work at all of USC's 17 professional schools, the USC College, and research centers across campus to build a multidisciplinary approach to innovation.
OnGreen Media Contact:
Chathri Munasinghe
chathri(at)ongreen(dot)com
(800) 297-0445 x 207
Twitter: @OnGreenInc
Facebook: OnGreen.inc
USC Stevens Institute Media Contact:
Ian Murphy
USC Stevens Director of Communications
ian(at)stevens(dot)usc(dot)edu
# # #