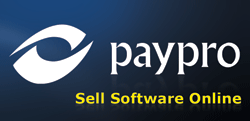 We chose PayPro to manage online sales, as we can see how supportive and innovative they are,
Toronto, Canada (Vocus/PRWEB) February 16, 2011
PayPro Global, an international eCommerce solution provider offering innovative tools and services to sell software online, today signed an eCommerce agreement with Aurigma, an image processing solutions developer. This partnership will enable Aurigma to deliver the best purchasing experience to shoppers worldwide with PayPro's wide range of payment options and highly responsive customer support.
Focused on client needs and passionate about innovating and presenting new ideas to enhance their clients' business, PayPro has been gradually expanding its eCommerce solution features and at the same time experiencing rapid growth internationally. PayPro's end-to-end EasyCommerce platform helps software vendors optimize marketing and payment processing and greatly increase online revenue with a number of unique tools, including cross-sale pop-ups, delayed emails and an advanced API.
"We chose PayPro to manage online sales, as we can see how supportive and innovative they are," said Fedor Skvortsov, Aurigma CEO. "We also appreciate the great flexibility EasyCommerce provides for setting up products and configuring them to interact with our infrastructure."
"Aurigma's choice of eCommerce partner is a testament to PayPro's reputation as a trusted service," said Matthew Silverman, CEO of PayPro Global. "Aurigma targets both b2b and b2c markets – we have all the tools to meet their requirements and much more to ensure their continued growth with us."
About Aurigma
Aurigma is a software development company founded in 2002. Aurigma creates components for Web solutions, especially those where digital image processing and transfer play an important role. Its products include Image Uploader, Graphics Mill, Photo Kiosk and others.
Aurigma's head office is located in Alexandria, VA, USA, and its research and development department is located in Tomsk, Russia.
Web site: http://www.aurigma.com
About PayPro Global
Founded in 2006, PayPro Global, Inc. develops and hosts an eCommerce solution that allows anyone to easily sell software online. PayPro Global supports more than one hundred currencies, all major credit and debit cards, and a wide variety of payment options. The company also offers software developers state-of-the-art licensing, activation, and anti-piracy protection for their applications.
PayPro Global is headquartered in Toronto, Canada, with development centers in Ramat Gan, Israel and Lugansk, Ukraine, and regional offices in Milwaukee, USA, and London, UK.
Web site: http://www.payproglobal.com
Contact
Matthew Silverman, CEO
PayPro Global, Inc.
Suite 1117
250 The East Mall
Toronto, Ontario
M9B 6L3
Canada
Phone: +1-646-873-6857 (Canada)
# # #