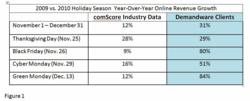 This holiday season our clients didn't just surpass industry averages – they blew them away.
Burlington, Mass. (Vocus/PRWEB) February 17, 2011
Demandware, Inc., a global leader in on-demand ecommerce, today announced that its clients achieved 31 percent year-over-year growth in U.S. online sales during the 2010 holiday season – a significant increase over the industry average of 12 percent reported by research group, comScore. This strong momentum continued into 2011 with 32 percent year-over-year growth for the month of January -- results that are trending significantly above the predicted 13 percent U.S. ecommerce revenue growth for 2011 as reported by J.P. Morgan.
During the holiday season, many clients leveraged the power of social media to amplify their marketing efforts and drive ecommerce sales. Integrated holiday marketing campaigns combining Facebook, Twitter and email marketing resulted in triple digit online growth year-over-year for some clients. In addition, several clients launched mobile commerce sites just in time for the holidays, allowing them to provide a seamless shopping experience for consumers on the go. "Daily deals" and "door buster" promotions, and private sales were also successful strategies to drive ecommerce revenue growth, especially during the biggest online shopping days of the year. These initiatives paid off with an 80 percent increase in year-over-year revenue on Black Friday, 51 percent on Cyber Monday and 84 percent on Green Monday. (See figure 1)
The flexibility and extensibility of Demandware® Commerce enabled clients to easily deploy innovative holiday promotions and strategies and fully integrate them within their ecommerce environment. In addition, with its on-demand platform architecture, Demandware Commerce automatically allocates capacity to client sites, easily scaling to support sudden spikes in traffic, such as those incurred during Black Friday and Green Monday. With an average site uptime of 99.98 percent, clients are able to fully capitalize on even the busiest shopping days of the year without risk of downtime.
"Demandware is all about enabling client innovation and supporting their growth strategies. This holiday season our clients didn't just surpass industry averages – they blew them away. Clients leveraged our feature-rich, extendable platform to implement an array of innovative merchandising strategies, which significantly fueled their growth during the critical holiday season and prepared them to continue that same pattern of growth going into 2011," said Jamus Driscoll, vice president of marketing, Demandware.
Connect With Us!

Twitter – twitter.com/demandware
Facebook – facebook.com/demandware
Demandware Blog - blog.demandware.com
About Demandware, Inc.
The trusted, global leader in on-demand ecommerce, Demandware revolutionizes how businesses deliver customized shopping experiences to consumers in the digital world. Only Demandware combines the on-demand ecommerce platform rated #1 by industry analysts, an open ecosystem of partners that extend the value of the platform, and measurable commitment by its employees to enabling client revenue growth. Demandware continually sets industry standards for market innovation and client satisfaction. Demandware clients include industry leaders such as Bare Escentuals, Barneys New York, Brooks Sports, Columbia Sportswear, Crocs, Hanover Direct, Jones Apparel Group, Lifetime Brands, Jewelry Television, Neckermann, Panasonic, Reitmans and Theory. For more information about Demandware, visit http://www.demandware.com, call 888-553-9216 or email info(at)demandware(dot)com.
Christine Major
Corporate Communications Manager, Demandware
Phone: 603-743-4534
Email: cmajor(at)demandware(dot)com
Twitter: @demandware
###