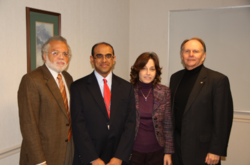 Wayne, PA (Vocus/PRWEB) February 19, 2011
Core Solutions, Inc. was pleased to host a recent meeting with PA State Representative and Appropriation Committee Chairman William F. Adolph and key executives from Core Solutions (CORE), QR Pharma, and Ben Franklin Technology Partners (BFTP).
The purpose of this meeting was to provide Rep. Adolph (R-Delaware County) insights into ongoing Commonwealth grants to BFTP for investments in growing companies in PA.
BFTP is best known for providing investments to deserving early-stage and established companies, which allow them to expand and create jobs throughout the state of Pennsylvania. Rep. Adolph and his assistant, Ms. Jeannie Smyth, listened to overviews by both CORE and QR Pharma on how BFTP funding and mentoring has helped them achieve these goals.
Ravi Ganesan, CEO and President of Core Solutions, described the impact that BFTP has had on his firm and its efforts in providing electronic health record technology to the behavioral healthcare industry nationwide. Mr. Ganesan also discussed the unique business opportunities that have arisen as a result of the national initiative for improved health IT and how CORE was bringing some of that money into Pennsylvania to grow CORE's business and create jobs.
Additionally, Dr. Maria Maccecchini, CEO of QR Pharma, described the efforts of her firm in developing pharmaceutical drugs to combat Alzheimer's Disease.
Also in attendance were: Terri Hicks, Vice President of BFTP; David Cohen, Manager of Programs, Analysis & Development at BFTP; Jaron Rhodes, Manager of Marketing and Communications for BFTP; Joseph Gariano, Director of Sales at CORE; and John E. Bennett, the Vice President of Operations of QR Pharma.
Everyone agreed that, with the support of Rep. Adolph and other key government officials in Harrisburg, BFTP's efforts to grow young companies and create jobs in Pennsylvania will continue, as it has for the last 25 years.
About Core Solutions, Inc.
Core Solutions, Inc. (CORE) is a market leader in providing electronic health records (EHR) technology for the behavioral healthcare and human services industries. Headquartered outside of Philadelphia, CORE offers a comprehensive enterprise software suite designed to fit the needs of its clients and brings providers the training, services, and expertise based upon over 10 years of experience. The company's solutions securely automate the collection, distribution, processing, reporting and analysis of administrative, financial and clinical client data for internal staff and external stakeholders for healthcare organizations nationwide. For more information, please call 610-687-6080 or visit Core Solutions, Inc.
# # #