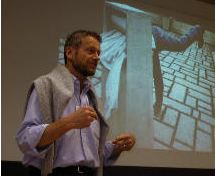 Dr. Erik Peper makes available a lifetime of experience and knowledge to the novice to complement his best-selling Biofeedback Mastery book.
(Vocus/PRWEB) February 18, 2011
The much anticipated February 22nd launch of the Biofeedback Basics Suite is expected to attract a large crowd at the Biofeedback Foundation of Europe's 15th annual conference opening in Munich next week. Designed for the world-leading ProComp Infiniti system, this Limited Edition Software Suite includes a 103-page software manual. In the manual, author Dr. Erik Peper, makes available a lifetime of experience and knowledge to the novice to complement his best-selling Biofeedback Mastery book.
"Biofeedback Mastery is a superb laboratory manual for training students and staff in all the major biofeedback modalities. Each unit teaches instrumentation and clinical skill fundamentals through intuitive and well-illustrated exercises. This manual is an indispensable resource for educators, students, and clinicians." said Fred Shaffer, PhD, Professor of Psychology – Truman State University.
Maureen Haney, MS, Director of the Psychophysiology Lab - California State University, Fullerton said of the Biofeedback Mastery book, "An invaluable resource for the novice, as well as the experienced biofeedback practitioner. Among its exemplary features are its highly structured units on biofeedback modalities that facilitate the well-detailed 'how to' instructions. I strongly recommend Biofeedback Mastery - An Experiential Teaching and Self-Training Manual as an effective and efficient means for promoting instrumentation mastery and clinical competency in the field of applied psychophysiology. Students' feedback consistently states that the manual greatly enhances comprehension and application of psychophysiological principles."
The final chapter of the software manual introduces techniques described by Dr. Peper in "Muscle Biofeedback at the Computer`", a practical manual used by San Francisco State University as part of its program for which Dr. Peper received the 2004 California Governor's Safety Award. The techniques can be applied using the ProComp Infiniti system and the software in the Limited Edition Suite.
Biofeedback Foundation of Europe 15th Annual Meeting
Munich - February 22-26, 2011
The BFE annual meeting is an interdisciplinary biofeedback conference to nurture communication and education between specialists from different disciplines. Experts from neurofeedback, biofeedback as well as somatic awareness disciplines come together to share and learn. They recognize that specific physiological signals are always part of the whole.
Erik Peper, Ph.D.
Erik Peper, Ph.D. is an international authority on biofeedback and self-regulation. He is Professor at the Institute for Holistic Healing Studies / Department of Health Education at San Francisco State University. He is President of the Biofeedback Foundation of Europe and past President of the Association for Applied Psychophysiology and Biofeedback. He holds Senior Fellow (Biofeedback) certification from the Biofeedback Certification Institute of America. He was the behavioral scientist (sport psychologist) for the United States Rhythmic Gymnastics team. He received the 2005 Sheila Adler Award from AAPB for his efforts to support and encourage student participation. He is an author of numerous scientific articles and books.
Biofeedback Certification International Alliance
Monika Fuhs, Executive Director of the BFE and editor of `Psychophysiology Today` and Dr. Peper have been instrumental in forming a global collaboration with the BCIA to educate and certify in the field of applied psychophysiology and biofeedback. In the latest issue of Psychophysiology Today, Dr. Fred Shaffer and Dr. Don Moss describe how in 2010, the BCIA changed its name to the Biofeedback Certification International Alliance (BCIA) to emphasize their international mission website at http://www.bcia.org.
Becoming BCIA Certified : Biofeedback, Neurofeedback or Pelvic Floor Muscle Dysfunction
Becomming BCIA certified requires attendance at any one of many workshops offered for the three different types of certification . For Biofeedback, Dr. Peper is teaching a 5-day workshop offered by Biofeedback Resources International in Hawthorne, NY from June 25-29, 2011. For Neurofeedback, the Drs. Michael and Lynda Thompson offer a 5-day workshop twice a year on beautiful Stony Lake near Toronto. For Pelvic Floor Muscle Dysfunction (PMDB), as well as biofeedback and neurofeedback, you can learn online through the Behavioral Medicine Research and Training Foundation with Dr. Richard Sherman's courses. After gaining certification in any one of these 3 specialties, you can receive supervision and maintain your new board certification from the BFE at workshops in Europe (Germany and Switzerland), North America (United States and Canada) or online.
About the BFE
The BFE is a non-profit foundation headquartered in the Netherlands entirely supported by corporate and non-profit organizations and individuals and through the sale of software, classes, webinars and workshops in the BFE Online Shop. Their mission is to provide professionals worldwide with a greater understanding of biofeedback. Support for the foundation contributes to the advancement of research and education in this exciting field. The foundation's advisory board comprises leading clinicians and researchers from multiple disciplines. Using innovative approaches to sharing knowledge, they aim to inspire continued growth by educating new generations of professionals.
Contact:
Carol Meyers
Education Manager
Biofeedback Foundation of Europe
education(at)bfe(dot)org
http://www.bfe.org
# # #