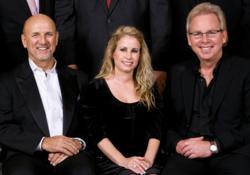 John Bisnar, managing partner at BISNAR | CHASE Personal Injury Attorneys, senior partner Brian Chase and staff attorney Sarah Serpa were named 2011 Southern California SuperLawyers.
Los Angeles, CA (Vocus/PRWEB) February 22, 2011
John Bisnar, managing partner at BISNAR | CHASE Personal Injury Attorneys (BestAttorney.com), senior partner Brian Chase and staff attorney Sarah Serpa were named 2011 Southern California SuperLawyers, as announced in the February issue of Los Angeles magazine. Additionally, Brain Chase, the BISNAR | CHASE litigation team leader, brought home the title of 2011 Top 50 Orange County Southern California SuperLawyer.
SuperLawyer rates outstanding lawyers on an annual, state-by-state basis from more than 70 practice areas. Each state nominates their top attorneys and every candidate is evaluated on 12 indicators of peer recognition and professional achievement. Candidates are then rated using a rigorous, multiphase process. Those with the highest point totals are selected from each category, which encompasses only 5 percent of total lawyers in each state.
SuperLawyer's objective is to create a credible, comprehensive and diverse listing of outstanding attorneys that can be used as a resource for attorneys and consumers searching for legal counsel. Its legitimacy is recognized by bar associations and courts throughout the US.
John Bisnar -- Fourth SuperLawyer Award
John Bisnar has earned the Southern California SuperLawyer title for the past four years along with the title of Top 50 Orange County Southern California SuperLawyers in 2009. John founded BISNAR | CHASE and has been practicing law since 1978. His long-standing reputation for providing premium service and outstanding results with a compassionate attitude towards clients and staff has made John personally and professionally successful.
He is also an advocate of encouraging people to educate themselves on the law and their legal rights. In his book, "The Seven Fatal Mistakes That Can Wreck Your California Personal Injury Claim," John explains in detail the pit falls personal injury victims must avoid, the settlement process and the information people need to obtain a fair resolution to a personal injury claims on their own.
Brian Chase -- Auto Product Liability Authority and Sixth SuperLawyer Award
During his 18 years of practicing law, Brian Chase has earned the title of Southern California SuperLawyer for the past six years and Top 50 Orange County SuperLawyer in for the past three years, 2009-2011. He specializes in automobile product liability, catastrophic injury cases and government tort and has proven his expertise by knocking down top automobile manufacturers and vindicating his client's rights to vehicle safety. His passion, knowledge and determination have helped Brian to win challenging cases and earn his title as SuperLawyer.
Brian shares his all encompassing knowledge of auto defects in his widely acclaimed book, "Still Unsafe At Any Speed: Auto Defects That Cause Wrongful Deaths and Catastrophic Injuries." He's also sharing his insights on the new Los Angeles, California radio law show "Larry on the Law" hosted by Larry Elder. You can listen to Larry and his all-star legal team of the best lawyers in Southern California on KABC every Saturday afternoon from 3 to 5 p.m.
Sarah Serpa -- Outstanding Personal Injury Attorney
Sarah Serpa graduated from Mercer Law School in 1998 and since has become well known for her extensive experience with products liability, medical/legal issues, brain injury, public entity litigation and employer vs. independent contractor issues. She has been chosen as a 2011 Southern California SuperLawyer. Sarah was also selected by SuperLawyers as one of their Southern California Rising Stars in 2007. Rising Stars recognizes the top up-and-coming attorneys who are 40 years old or younger or who have been practicing for 10 years or less.
About BISNAR | CHASE
The BISNAR | CHASE law firm's Los Angeles personal injury attorneys represent people who have been very seriously injured or lost a family member due to an accident, defective product or negligence throughout California. The law firm has won a wide variety of challenging personal injury and defective product cases, involving car accidents, work related injuries, dog attacks and defective products. Visit their blog at CaliforniaInjuryBlog.com.
# # #