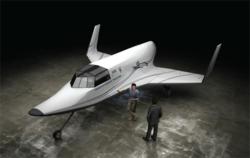 "All these super personalities have a following and peers who will go wild when they hear that their STAR is going on a space trip,"
Boca Raton, FL (Vocus/PRWEB) February 22, 2011
Mitchell J. Schultz, space tourism specialist and managing director of Xtraordinary Adventures, recently published several articles about the possiblities of a mishap in early private space flight, and issued a list of 1,000 of the most successful athletes, businesspeople, models, comedians, authors, movie, TV and music personalities that should become more aware now of taking a suborbital space flight.
"All these super personalities have a following and peers who will go wild when they hear that their STAR is going on a space trip," Schultz said. "With Dr Hsu's risk assessment of all vehicles and companies available for suborbital space flight, Xtraordinary Adventures can make this available for all who wish to know more. Regardless of which vehicle they wish to fly in, this is their opportunity to be listed and forever recognized as one of the earliest civilian space pioneers."
Within the last five years, more than 500 worldwide adventures have already pre-registered for a suborbital space flight. SpaceShipTwo and Lynx are scheduled to be test flown this summer in Mojave, California. Costs remain between $95,000 and $200,000 and all future participants must be qualified and pre-instructed on flight expectations.
It has been almost 50 years since man's first space flight, that of Yuri Gagarin on April 12, 1961, and with the success in 2004 of SpaceShipOne, several private space companies are vying capture of the major market for this once-in-a-lifetime adventure.
Due to the timeliness of expanded space travel opportunities, it is important to carefully assess both the risks and benefits this new experience offers. The challenge is here for those who dare to take it on. In the words of Dr. Wernher Von Braun, father of human space flight, "I reach for the stars."
Dr. Feng Hsu, Ph. D.
Dr. Feng Hsu is a U.S. expert with several decades of experience in the field of Risk Analysis, Safety and Mission Assurance (SMA) assessment for complex engineering systems. Formerly a staff research engineer at world renowned Brookhaven National Laboratory, Dr. Hsu has worked extensively on reliability, probabilistic risk assessment (PRA) and management theory and methodology research for nuclear reactor safety since the 1980s. He became senior staff engineer/scientist and joined NASA's SAIC team in the Shuttle & Exploration Analysis Department at Johnson Space Center in Houston in 2000. Dr. Hsu was the lead engineering analyst and project manager working as technical expert in the space center on NASA's key program areas, such as PRA, SMA for the Space Shuttle, International Space Station as well as the risk-informed design assessment for the new generation space launch and crew exploration vehicle systems. Dr. Hsu has published extensively and co-authored several books by CG Publishing and Aerospace Technology Working Group. For his work, Dr. Hsu has also won numerous research and service awards from NASA, among others. After several years as head of Integrated Risk Managemnt at NASA's Goddard Space Flight Center, Dr. Hsu has decided to take on greater challnges to support the private space industry and is now senior vice president of Systems Engineering and Risk Management for Space Energy, and is fully dedicated to the development of a space solar power satellite demo project for delivering safe, permanently renewable, environmentally friendly and economically feasible space solar power for sustainable development of mankind.
Xtraordinary Adventures (http://www.XtraordinaryAdventures.com)
Xtraordinary Adventures, LLC is a two-and-a-half-year-old Florida Limited Liability Company operating from Boca Raton, Florida, and is reaching out worldwide to extend an opportunity to interested space enthusiasts and adventurers desirous of meeting with others of similar interests and for registration assistance a for high adventure rocket propelled spaceship thrill-ride into suborbital space on XCOR's Lynx.
Xtraordinary Adventures is dedicated to providing current, factual information, innovative ideas, interesting products, gifts, trip mementos and quality service to enable discriminating participants in finding answers to satisfy their quest for space knowledge and memorable space-related experience opportunities. To this end, we are continually challenged to explore different paths in bringing this excitement and education in our unique style.
The founder of Xtraordinary Adventures, LLC is Mitchell J. Schultz, innovator, world traveler, visionary and recognized leader in the world of alternate finance, travel and media. He has also been active in charitable programs and fundraising for more than 40 years. Schultz is a certified SPACE TOURISM SPECIALIST and graduate of Space Tourism University 2010. To secure your reservation and for more information, he can be reached at (800) 358-0655 or MJS(at)XtraordinaryAdventures(dot)com.
XCOR Aerospace (http://www.XCOR.com)
XCOR Aerospace Corporation, founded in 1999, is focused on the research, development and production of safe, reliable, reusable launch vehicles, rocket engines and rocket propulsion systems being developed from its headquarters at the Mojave Air & Space Port in Mojave, California. CEO Jeff Greason served on the U.S. Human Space Flight Plans Committee.
In just 12 years, the firm has developed and built 11 different rocket engines and built and flown two manned rocket-powered aircraft. XCOR is now in the phased development of its next generation vehicle, the suborbital Reusable Launch Vehicle, Lynx. In addition to taking a pilot, initially former NASA Shuttle Commander Col. Rick Searfoss and one spaceflight participant to the edge of space. The vehicle will also provide affordable launch services to academic, scientific, engineering, and observation-related markets.
# # #