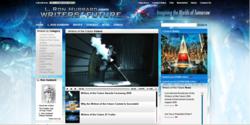 Don't quit your day job. Keep at it whenever you can, and your passion for writing will guide you through, evenings, weekends, whenever you can
Hollywood, CA (Vocus/PRWEB) February 17, 2011
What did David Farland do before he was a New York Times bestselling author? He was a prison security guard. How about Kevin J. Anderson? He worked at Livermore Laboratories. Nora Roberts was a housewife and Dan Brown was a musician and an English Teacher.
So how do you make the transition?
One vehicle for supporting new and fledgling authors is the world-acclaimed, free-to-enter global contest called L. Ron Hubbard's Writers of the Future, now in its 27th year. Created by best-selling author L. Ron Hubbard, the merit-based Writers of the Future Contest was initiated to discover and encourage talented beginning writers of science fiction and fantasy. Quarterly winners of the Contest appear in the best-selling annual anthology, receive cash prizes, and attend an all-expenses paid gala awards ceremony and writing workshop.
The Writers of the Future Contest is that break that new writers can use to launch that career they've dreamed of.
Contest judge and author of On Stranger Tides, Tim Powers, says to winners every year "don't quit your day job. Keep at it whenever you can, and your passion for writing will guide you through, evenings, weekends, whenever you can."
This year's contest winners are just as diverse as previous years, with an attorney, from Colorado, a computer builder from Massachusetts, a baby care products distribution manager from California, a computer programmer from Australia, and a structural engineer from Australia, to name a few.
If you've ever thought of becoming an author, no matter what you do in life, you have a golden opportunity to make it happen.
To learn more, including details on how to enter the contests, visit the website at http://www.writersofthefuture.com
# # #