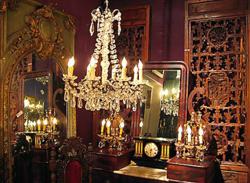 It is safe to say we may not have survived the recession without the service of Paramount Merchant Funding!
New York, NY (Vocus/PRWEB) February 24, 2011
Despite years of strong earnings posted by Charlotte based Sleepy Poet Antique Mall prior to the recent recession, owner Dickson Shreffler found it virtually impossible to receive adequate funding from his local lending institutions. "I was getting nowhere with banks, they were not an option even with annual sales of $700,000 in the previous years," adds Shreffler.
Faced with the possibility of going under back in 2008, Shreffler sought out alternative options to bank loans. Here is where he discovered the merchant cash advance offered by New York based Paramount Merchant Funding. "It is safe to say we may not have survived the recession without the service of Paramount Merchant Funding," says Shreffler.
Sleepy Poet Stuff Inc., a green advocated retailer of recycled antiques, furniture, and various other vintage paraphernalia recorded a fraction under $2 million in sales last year, exceeding expectations by 20%. More impressive, this past January was their busiest month on record and Saturday, February 5th, their busiest day to date.
This is just one of many success stories nation-wide clients increasingly share with CEO Jared Feldman. Since 2008, Paramount Merchant Funding—an alternative loan funding provider specializing in the merchant cash advance—has provided small to medium size businesses with sufficient funding needed to survive the volatile economic conditions brought upon by the great recession.
Paramount Merchant Funding looks past the issue of poor credit rates, the main culprit behind the "denied" stamp on so many bank loan applications. Rates are flexible, and are derived off of future credit sales. Additionally, there are no personal guarantees. All of these facets distinguish this form of business funding from SBA-backed loans, consequently attracting many prospective fund seekers.
"I have used a traditional SBA-backed loan in the past, only one, and I like this process much better," states Shreffler. Since 2008, he has received over $300,000 from Paramount Merchant Funding to increase cash flow for purposes of remodeling, advertising, and "some fun-projects" for his business.
Paramount Merchant Funding continues to expand clientele. It has proven to be a safe and effective alternative to bank loans, which many small business owners are now beginning to realize.
Contact:
Paramount Merchant Funding
261 W. 35th Street,
Suite 400
New York, NY 10001
212-947-0100
# # #