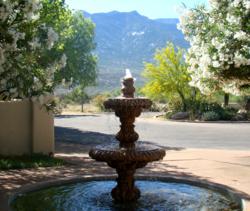 Therapists attending the training receive a complete education about sex addiction from the foremost experts in the field
Tucson, AZ (Vocus/PRWEB) February 18, 2011
Sierra Tucson recently hosted the second of four installments of Certified Sex Addiction Therapist (CSAT®) Training, in conjunction with the International Institute for Trauma and Addiction Professionals (IITAP).
Presented earlier this month at Sierra Tucson and the Hilton El Conquistador Golf and Tennis Resort in Tucson, Arizona, Module 2 was titled, "The Family Zone: Understanding the Family Role, Disclosure and Help for the Recovering Family." Through education and role-play exercises, attendees learned about appropriate disclosure of sexual acting out behavior and the impact on partners, children, and other family members.
"Modules 1 and 2 have been incredibly thorough and well-organized," said Nancy O'Donnell, M.A., LPC, the Clinical Director at Sierra Tucson, who attended the CSAT® Training with four other therapists from the treatment center. "In addition to addressing sex addiction and recovery for the patient, the presenters paid due attention to the family's role as well."
The CSAT® Training was facilitated by IITAP, an organization dedicated to providing cutting-edge training and promoting the highest level of professional standards among practitioners worldwide who treat individuals with sex addiction and associated disorders. IITAP shares knowledge about sexual compulsion and offers networking opportunities for those involved in the field of sex addiction therapy.
Leading the Module 2 Training was renowned sex addiction expert Stefanie Carnes, Ph.D., CSAT-S. The CSAT® Training is based on Dr. Patrick Carnes' research related to the stages and "tasks" of recovery from sexual addiction. Therapists who complete all the Modules learn strategies for identifying and treating sex addiction and compulsivity in their practice.
"Therapists attending the training receive a complete education about sex addiction from the foremost experts in the field," said O'Donnell. "For us at Sierra Tucson, the training validated what we've seen in patients and families over the years and offered new insights into proven strategies for treating this disease."
Modules 3 and 4 of the CSAT® Training will be offered later in 2011 and 2012. For dates and registration information, visit Sierra Tucson's "Events" page.
About Sierra Tucson
Sierra Tucson is a multi-licensed, accredited Psychiatric Hospital and Behavioral Health Residential Treatment Center that is internationally respected as a leader in the treatment of addictions, mental/behavioral disorders, and chronic pain. For over 27 years, Sierra Tucson has provided world-class treatment to thousands of people using some of the most progressive, effective therapies available. Its renowned Program for Sexual and Trauma Recovery, developed in 1998, provides integrated treatment for individuals suffering from sexual compulsivity, post-traumatic stress disorder, and the effects of abuse and trauma. For more information about Sierra Tucson, call 800-842-4487 or visit http://www.SierraTucson.com.
Sierra Tucson is a proud member of CRC Health Group, which offers the most comprehensive network of specialized behavioral healthcare services in the nation. With the largest array of personalized treatment options, individuals, families, and professionals can choose the most appropriate setting for their behavioral, addiction, weight management, and therapeutic education needs. CRC Health Group is deeply committed to making its services widely and easily available to those in need, while maintaining a passion for delivering the most advanced treatment available.
# # #