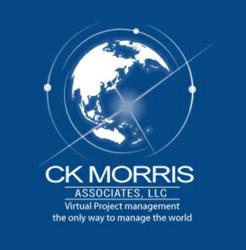 Seattle, WA (Vocus/PRWEB) February 18, 2011
CK Morris Associates, LLC Virtual Program and Project Management Consulting (http://www.ckmorrisassociates.com) is excited about the design of their new remote project methodology. "Maintaining control of remotely managed projects is vital for meeting client delivery expectations," says Claudia Alex Morris, MBA, PMP, President and Owner of CK Morris Associates, LLC. "As specialists in leading and directing remote projects, we realize additional upfront planning is necessary. Replacing physical interaction with virtual technology has risks that should be identified and mitigated," says Morris. "Planning what virtual tools to use and how to effectively use them should not be an afterthought. Especially, since remote teams heavily rely on verbal and written communication."
The Remote Project Methodology was specifically designed to facilitate organized project control, communication, quality assurance, and risk mitigation for remote projects. It provides a sound approach to project management regardless of the nature of the project. Its iterative process integrates easily with other commonly used project methodologies: Traditional (Linear, Incremental), Adaptive (Iterative), Extreme, etc. The combination strengthens project oversight and control.
Remote and virtual projects will benefit in several ways:
1. Elimination or reduction of conflicts resulting from unclear expectations.
2. Benefits realized from proactive risk mitigation planning.
3. Significant reduction in issues caused by poor communication.
4. Checks and balances to ensure deliverables meet expectations.
Overall, the Remote Project Methodology focuses on proactive planning, risk mitigation, and project control. All of which are important factors to consider when planning a remote project.
CK Morris Associates, LLC Virtual Program and Project Management Consulting (http://www.ckmorrisassociates.com) is a virtual service firm specializing in online strategic and operational delivery of senior level program and project management expertise. Clients are assigned an online project manager to plan, lead, and direct their projects and resources (vendors and project teams). Project managers work remotely, therefore reducing the client's carbon footprint and hours charged against the project budget. The company, minority woman owned, is located in Seattle, WA. The firm's President and Owner, Claudia Alex Morris, MBA, PMP, is an accomplished senior project manager, writer, educator, and Project Management Institute volunteer. The firm strongly believes in their motto, "Virtual project management is the only way to manage the world!"
# # #