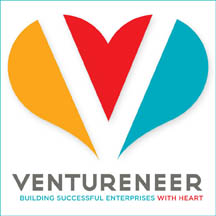 Anyone who wants to do good while doing well -- not just nonprofits -- can benefit from this library. It's practical, realistic, and well organized.
New York, NY (Vocus/PRWEB) February 18, 2011
Need the answer to a question about how a nonprofit, social enterprise or socially responsible business can use social media? Don't know where to go for guidelines on using social media for social good? Check out Ventureneer's online Social Media Library, a one-stop resource center officially launched by Ventureneer this week.
The library brings together general information, case studies, research, blogs, how-tos, and tools to help both novice and sophisticated users of social media for social good. Nonprofits and triple-bottom-line companies -- or even those who just want to be greener or more sustainable -- can benefit from the wealth of information focused on socially responsible use of social media.
Using their experience as entrepreneurs, mentors, nonprofit consultants, and social media gurus, Ventureneer's editors have hand-picked the resources included on the site.
As part of the library, Ventureneer will include a ranked list of bloggers who provide insights into the best ways to use social media for social good. Ventureneer is asking values-driven companies -- nonprofits, social enterprises and socially responsible small businesses -- to nominate the bloggers they think contribute most to this field. These may be general social media bloggers, social good bloggers or both. Nominations for the list will be open through February 28. The top bloggers will be announced March 31 at Ventureneer.com
"Anyone who wants to do good while doing well -- not just nonprofits -- can benefit from this library. It's practical, realistic, and well organized," says Geri Stengel, founder of Ventureneer.
Consolidating information in an easy-to-access format is the latest step in Ventureneer's outreach to organizations who make doing social good a part of their business. The company conducted a survey last summer to determine how nonprofits could effectively use social media. The free ebook, Nonprofits and Social Media: It Ain't Optional uses the data from that survey to lay out the best practices of nonprofits that successfully use social media.
A free webinar Social Media Best Practices for Nonprofits will take place Wednesday, Feb. 24 from 12n to 1 pm ET. Participants will get more in-depth information from the survey and be able to ask questions of Stengel.
About Ventureneer
Ventureneer connects values-driven small business owners, social entrepreneurs, and nonprofit leaders with the knowledge they need to make the world a better place and to thrive as businesses. At Ventureneer, entrepreneurial and nonprofit training and advice are practical, accessible, and affordable. Ventureneer has a new approach to learning that blends traditional, formal instruction with informal, peer learning. You can learn new skills, collaborate with peers, develop solutions to your real-world problems, get one-on-one help from experts, and access the information you need to make better decisions for your organizations.
# # #