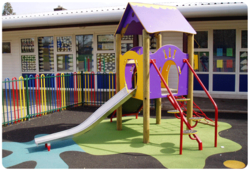 If you want to deal with obesity and physical activity, it has got to include the natural environment
Bolton, Lancashire (Vocus/PRWEB) February 21, 2011
Council provided play areas, including wooden playgrounds, are soon to become a thing of the past, as in November 2010 it was warned that government cuts were to blame for the closure of many play areas up and down the country. This has led to teaching unions warning that children, especially those from disadvantaged backgrounds, could miss out on vital experiences and physical development.
Professor Lamine Mahdjoubi of the University of the West of England, said that a lack of outdoor exercise could potentially be the cause of heart problems and diabetes in later life, and urged councils to create more open spaces reserved especially for children as an investment into their development.
Professor Mahdjoubi told the UWE conference: 'As councils cut their spending on outdoor spaces and society encourages physical idleness, obesity is becoming an epidemic. Young people now face heart problems, diabetes and other diseases because of their sedentary lifestyles. This puts them at risk of premature death and confronts the NHS with a rocketing bill. This subject affects us all. The cost of obesity will have to be met ultimately by society – it is a time bomb waiting to go off, like climate change.'
Dr. William Bird, Advisor to Natural England said: 'If you want to deal with obesity and physical activity, it has got to include the natural environment. The outdoors for children creates resilience so that they can cope with more stresses; they can actually increase their concentration, they can improve their work.'
Robin Harwood, owner of Bolton based playground equipment supplier, Playground Imagineering, advises parents not to be daunted by the stories. 'We may see closure of council provided playgrounds and those open spaces that were once used for ball games and kite flying, along with hearing stories that childhood obesity and its related health risks are on the rise. However, that does not necessarily mean that this is the end of facilities for our children to go out and play with their friends.'
Despite the closure of many council outdoor playgrounds, the younger generations still have access to some play areas, thanks to the Childcare Early Years Register (EYFS) Regulations 2008. This requires that nurseries, crèches and similar institutions for children aged between 0-5 years, provide access to outdoor play areas, and where this is not possible, outings should be planned and taken on a daily basis, allowing the children to interact with the outside environment.
'Many schools, as well as nurseries and crèches, are aware of the need for outside play equipment for children, and take their role as a provider very seriously. With recent changes to funding, now more than ever, local schools and nurseries are improving their outdoor spaces to their best possible potential by incorporating a variety of different apparatus to aid positive physical and social development.
Examples of these include child's playhouses, essential to role playing, children's climbing frames and sand pits; there's nothing more kinaesthetic than creating castles and roads in a kids sandbox.' Robin is a qualified engineer with 25 years experience, and his company has invested in the latest 3D CAD software to provide bespoke school play equipment designs. Playground Imagineering recently completed a project for St Hugh of Lincoln School with much success.
'The challenge was to provide something that would stimulate and challenge a wide age range of children, whilst linking to an existing 'tyre' area in the corner of the space. The solution involved an Aztec Adventure Unit along with a number of Adventure Trail items. The new equipment was linked to the tyre area, which was also treated to a new synthetic grass surface to facilitate year-round access.'
The headmaster of St Hugh of Lincoln School, Mark Mountcastle, was pleased with the team behind Playground Imagineering, responsible for the school's playground equipment. 'I was very impressed with their presentation and proposal as they planned our project with our needs in mind and I felt I was receiving a bespoke service rather than an off the peg solution. As a result, the product matches our needs and that of the site perfectly.'
'We have completed many other projects in the area with the same degree of success, incorporating wooden play equipment, outdoor climbing frames and wooden playhouses, along with imaginative and harmonious landscaping,' continued Robin. 'We've also just overhauled our company website, allowing visitors to view completed projects. This illustrates how Playground Imagineering has not only overcome difficulties involving space and budget, but excelled to create a genuinely enjoyable and functional play area for each of our clients.'
'As a company which is in frequent contact with schools, nurseries and care providers, don't think that as a parent, the closure of council-run playgrounds will affect your child's development, as these institutions are doing a fine job of catering to your child's needs in regard to outdoor play.'
# # #