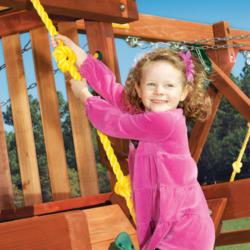 "Swing sets require extremely strong joints…"
Raleigh, NC (Vocus/PRWEB) February 18, 2011
As first lady Michelle Obama's "Let's Move" campaign to fight childhood obesity gains momentum, wooden swing sets that offer a way to get kids moving and away from video games and computer screens are grabbing parents' attention. One company, Woodplay Playsets of Raleigh, North Carolina, is among the major suppliers of backyard swing sets.
So what do parents look for as summer approaches and they're shopping for the safest, most durable wooden swing set? Here are six questions that Woodplay hears from parents, and believes that any parents should ask before they buy:
1. What kind of wood do you use?
Woodplay uses the finest wood – redwood – which is resistant to insects and decay. Because insects aren't attracted to the wood, it doesn't need to be treated with dangerous chemicals (unlike wood species that use pressure treating to artificially extend product life.) Redwood, harvested mostly from California, is also one of the fastest-growing tree species, which makes it a highly sustainable resource. Woodplay uses certified mills that comply with the Sustainable Forestry Initiative (SFI), which plants five trees for every one harvested to insure the sustainability of the resources for generations to come.
2. Will a swing set work if our back yard isn't level?
All Woodplay swing sets come with an adjustable A-Frame design, which allows level placement in your yard, despite uneven or irregular ground. The modular concept gives you freedom to create the swing set configuration that suits the shape and size of your yard.
3. Can I add to my swing set in the future?
With Woodplay's countless accessories and options, such as rock climbing walls, monkey bars, over seven types of slides and ten types of swings, there's plenty of flexibility to add on later. Not all swing set companies can offer this kind of add-on capability.
4. How do I know it's safe?
Woodplay complies with all ASTM standards for quality and safety. In fact, Woodplay serves on the board of the ASTM, a leading standards organization whose quality, testing and safety guidelines are recognized globally. Woodplay is one of the very few companies that use non-slip flat steel safety rungs as opposed to the common round pipe which can be slippery when damp. Commercial-grade hardware is used throughout the wooden swing sets. When comparing safety features, look for accessories that offer angled, rather than vertical, climbing surfaces. Angled surfaces allow children more stability when climbing.
5. How are the wooden swing sets engineered?
"One thing to look for is how the joints are made," says Woodplay Product Manager Tom Ellingson. "Swing sets require extremely strong joints because once you add a swinging apparatus, that back-and-forth motion works to loosen joints. That's the reason Woodplay uses triple-joint construction, which means your wooden swing sets will last longer and require less maintenance." Also look for recessed hardware, which increases safety for children climbing on a swing set.
6. Are there guarantees?
Woodplay has the best warranty in the industry – a lifetime for the lumber and five years for everything else.
Buying a wooden swing set is an important decision. Thinking ahead now about the best swing set for your children is great first step. Selecting the safest, most well-engineered model is just a few answers away.
# ##