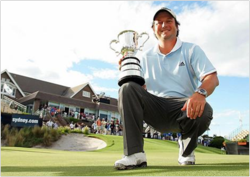 Long Beach, CA (Vocus/PRWEB) February 22, 2011
Human Touch®, the U.S. market leader of innovative massage chairs, Perfect Chair® Recliners, and other wellness solutions, is proud to announce its continued partnership with PGA Pro Tim Clark. For the past three years, Clark has served as a brand and product ambassador on Human Touch's Wellness Council, and has been featured in numerous campaigns supporting HT products. And now Clark has extended his relationship with Human Touch® through 2012.
A 2011 Consumer Electronics Show Innovations Honoree for Design & Engineering, Human Touch® continues to raise consumer awareness about massage benefits without sacrificing style and design. Clark, who has been on the PGA Tour since 2001, is a perfect candidate to serve as an advocate for daily massage and the many benefits Human Touch® products can provide. After suffering from a head and neck injury in 2007, Clark turned to Human Touch® products for help, notably the Human Touch® AcuTouch® Massage Chairs, his personal favorites.
In order to overcome the physical and psychological stress of life on the Tour, Clark found that using Human Touch® massage products as part of his daily routine has greatly improved his neck and back issues. "With the help of Human Touch®, I can maintain the health and strength of my body on a day to day basis. From travelling to competing on the PGA tour, my body endures a lot of stress, and Human Touch® has come through for me every time."
Clark has long been a fan of the AcuTouch® Zero-Gravity HT-7450, also having recently added the AcuTouch® 9500 with HT-Connect™ to his list of favorite massage chairs. Clark is now able to maintain his body's top condition in the comfort of his own home.
"We are thrilled to have Tim Clark return to serve as a spokesperson, where he will continue to raise awareness of the benefits of a daily massage," said Andrew Corkill, Director of Marketing at Human Touch®. "His involvement with the Wellness Council puts him in a unique position where he can use his personal triumph over serious injury to help others improve their everyday life."
Clark played the first three events of this year- The Hyundai Tournament of Champions, The Sony Open and The Bob Hope Classic as well as the AT&T Pebble Beach National Pro-AM. He is currently playing in the Northern Trust Open and will then go on to play the WGC-Accenture Match Play Championship, the WGC-Cadillac Championship, the Transitions Championship, and the Masters. Clark will continue to serve as a trusted and essential advocate for health and wellness through massage. Clark will also take part in numerous Human Touch® events and campaigns, such as product demonstrations, media interviews, photography shoots and various appearances at trade shows on behalf of Human Touch®.
About Human Touch®
In pushing the boundaries of its traditional massage chairs and wellness products through advanced proprietary technology and innovation, Human Touch® is focused on infusing health and wellness into everyday lives through high-quality, design-oriented and award-winning massage chairs, Zero-Gravity Perfect Chair® Recliners and other wellness products and solutions. Human Touch® has been making people feel better™ for more than 30 years by developing state-of-the-art massage and wellness products, as well as by providing valuable consumer education about the substantial health and wellness benefits of regular massage therapy, relaxation and proper posture. Stress relief, increased range of motion, pain relief, improved circulation and increased immunity are just some of the valuable health benefits associated with regular massage therapy. Human Touch® products are available at back care specialty stores, fine furniture stores across the country, through international retailers and distributors in more than 40 countries, as well as online at http://www.humantouch.com.
# # #