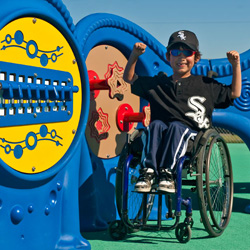 Delano, Minnesota (Vocus/PRWEB) February 20, 2011
In January 2010, Landscape Structures introduced the Inclusive Play design solution that was meant to truly welcome children and families of all abilities to the playground. In addition to providing universally accessible play environments and playground products that offer age-appropriate challenges, the company addresses the sensory needs of children with autism and other sensory-processing disorders, as well as those that are typically developing.
Because of its commitment to providing inclusive playgrounds, Landscape Structures was recently honored with the 2011 Disability Matters Marketplace Award. The Disability Matters awards represent businesses that serve as role models for their initiatives to market to the disability community, which is now the largest and fastest growing minority segment in the world.
"It is so personally gratifying to see the incredible commitment of our honorees to the full inclusion of people with disabilities and their families," said Nadine Vogel, founder and president of Disability Matters, and the mother of two children with special needs. "Their passion and dedication to high standards for this most important work, inspires employees and customers alike."
To further reach the disability community on the playground, Landscape Structures has introduced even more inclusive, accessible playground products. The new products such as the OmniSpin™ Spinner and Oodle™ Swing provide tactile, proprioceptive, vestibular, visual and auditory stimulation. Additionally, these inclusive play products help develop motor-planning skills and encourage social-imaginative play. Learn more about Landscape Structures' Inclusive Play design solution and its new inclusive playground products.
# # #