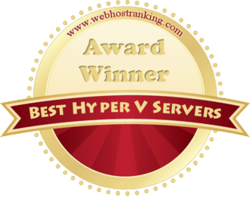 San Diego, CA (Vocus/PRWEB) February 21, 2011
The BestSites, Inc (http://www.webhostranking.com) editorial team reviewed VPSmachines and recently awarded them with their prestigious Best Hyper V Servers award. VPSmachines focuses solely on providing VPS (Virtual Private Server) hosting utilizing the best Hyper V Server technology.
For companies that are sick of shared web hosting but are not ready for the extra cost and responsibility of owning a dedicated server, VPS hosting is an affordable and practical option. VSPmachines has mastered the VPS hosting system and created a number of VPS solutions to fit any business web hosting needs. With four VPS plans to choose from, VPSmachines clients can find the perfect plan for their VPS hosting needs.
Using the Microsoft Hyper V (short for hypervisor) technology allows VPSmachines to effectively host multiple operating systems on their servers. The Microsoft Hyper V Servers enable a company like VSPmachines to improve their server utilization and reduce the costs associated with operating huge datacenters. As a customer using VPSmachines hosting service, you will have your own hosting environment that allows your section of the server to be rebooted without affecting any of the other accounts on the same server.
This Best Hyper V Servers award was earned by VPSmachines after proving how reliable their VPS hosting services and features are. The VPSmachines services start out at only $27 per month and provide unlimited bandwidth and huge amounts of disk space. All of their machines are 100% reliable with RAID10 systems for the best and most secure hard drive protection for every business. VPSmachines also provide a 100% uptime service level agreement to show that they are dedicated to keeping your services up and running all the time.
When it comes to VPS hosting, VPSmachines is truly one of the best web hosting providers in the industry. For dedicated memory, premium storage and premium network transfer service, VPS hosting is the way to go. VPSmachines offer all of these benefits and more. Check out VPSmachines to see if virtual private server hosting is the next step for your business web hosting needs.
About BestSites, Inc
BestSites, Inc was founded by Internet entrepreneurs with more than 10 years of experience in web based business solutions. The BestSites team loves sharing their knowledge and experience about web hosting and other Internet operations with others in the online business community.
# # #