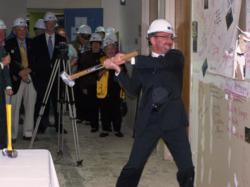 I am so proud of the wonderful things happening at Hancock Medical Center, and thankful that QHR has been able to be by the hospital's side throughout the recovery process
Brentwood, TN (Vocus/PRWEB) February 21, 2011
On February 15, Quorum Health Resources (QHR) hospital client Hancock Medical Center (Bay St. Louis, Mississippi) celebrated the beginning of a multi-million-dollar, first floor reconstruction project with a ceremonial wall breaking. The event, held in place of a traditional ground breaking ceremony, gave HMC's board members, physicians, staff and QHR team an opportunity to write their worst memories of Hurricane Katrina on a wall and then demolish it – a gesture that symbolized putting the devastation of Hurricane Katrina in the past and shifting all focus to the future.
"It's an exciting time for Hancock Medical and the communities we serve," said Hancock Medical Center Administrator and QHR employee Hal Leftwich. "The second floor of the hospital has already been renovated and it looks fantastic. When this first-floor reconstruction project is complete, the hospital will be all new again and better than ever."
"I am so proud of the wonderful things happening at Hancock Medical Center, and thankful that QHR has been able to be by the hospital's side throughout the recovery process," said QHR Regional Vice President Chip Holmes, who provides ongoing support to HMC. "I'll never forget the day Hurricane Katrina hit – the devastation to both the hospital and the community was unimaginable. Yet, somehow, an unwavering spirit emerged at HMC. Their team never gave up. They fought hard to recover from $30 million in damages and, now, to see them taking this final step…it's inspiring."
Hancock Medical Center's first-floor FEMA reconstruction project, nearly six years in the making, will take place in five phases and be completed over a period of three-and-a-half years. The estimated cost of the project is $24.2 million.
QHR (Quorum Health Resources) has provided consulting, management and education resources to hospitals and health systems for three decades. QHR is the market leader in hospital management, with nearly 150 current multi-year clients across the U.S. As a consulting resource, QHR is the seventh largest healthcare management consulting firm in the U.S., and the QHR Learning Institute reaches more than 10,000 healthcare professionals each year. To learn how we help hospitals Survive and Thrive, go to http://www.qhr.com.
# # #