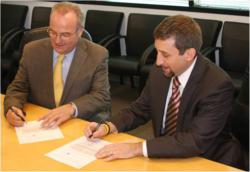 KINGSTOWNE, Va. (Vocus/PRWEB) February 18, 2011
Dan Cuviello, director for Operational Intelligence & Technical Services of Lockheed Martin Information Systems & Global Solutions-Defense [NYSE: LMT] (right), and American Public University System (APUS) President and CEO Dr. Wallace E. Boston (left) today signed an agreement to acknowledge their continued commitment in working together in support of the intelligence and national security communities, and to identify opportunities to recognize collegiate-level learning within Lockheed Martin's training programs.
AMU, a leading online education provider to the armed forces and part of APUS, previously evaluated and recommended college credit for two courses offered by Lockheed Martin's Center for Security Analysis in October 2010. Lockheed Martin's Center for Security Analysis offers intelligence analysis training to the Department of Defense, law enforcement community and U.S. citizens employed by federal or state governments, and U.S. corporations or organizations engaged in intelligence and security.
###