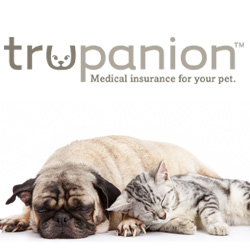 People love to show off their pets and this is a great avenue for them to do so.
Seattle, WA (Vocus/PRWEB) February 21, 2011
Trupanion, North America's fastest growing pet insurance provider, remains the most-liked pet insurance company on Facebook, recently reaching over 25,000 followers. Trupanion has maintained this distinction since starting its Facebook page in 2008.
Trupanion interacts daily with this community, keeping them up-to-date with pet news, and sharing pet photos, interesting stories, video, and more. The company also educates pet owners about pet insurance and pet health information, and shares information about giveaways and job opportunities.
"We are proud of the community we have created and look forward each day to seeing what information we can provide them and what we can learn from them," said Stacy Kowalchuk, Social Channels Manager at Trupanion. "It really is a two-way street."
Policyholders often use the page to discuss claims and ask questions, both pet insurance-related and general pet questions, and Trupanion works hard to respond to each and every post. Others use the page to learn about their pet insurance options, view photos and videos, and upload their own. Almost 2,000 photos have been uploaded to the page by the community of pet lovers.
"Our followers are constantly keeping us entertained with new photos and videos and we enjoy seeing what they share," said Kowalchuk. "People love to show off their pets and this is a great avenue for them to do so."
To visit the Trupanion Facebook page, visit http://www.facebook.com/petinsurance.
About Trupanion™
Trupanion™ pet insurance offers cat insurance and dog insurance in the United States and Canada. Trupanion™ is self-underwritten by the American Pet Insurance Company, allowing Trupanion™ to offer a simple, customizable pet insurance policy with no payout limits and 90% coverage of veterinary bills. Enrolled pets receive lifetime coverage for diagnostic tests, surgeries, and medications if they get sick or are injured, with no incident, annual or lifetime limit. Trupanion's mission is to deliver fast, simple and user-friendly financial support to pet owners. For more information about Trupanion™, call 800-569-7913 or visit http://www.TrupanionPetInsurance.com.
About the North American Pet Health Insurance Association
Trupanion™ is a founding member of the North American Pet Health Insurance Association (NAPHIA). Founded in 2007, the North American Pet Health Insurance Association is committed to educating and promoting the values and benefits of quality pet health insurance to North American pet owners, the general public, and the veterinary community. As an association, we are committed to high standards and transparency in all of our actions and products. To learn more, visit the North American Pet Health Insurance Association website at http://www.naphia.org.
###