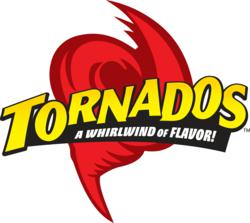 ... our Tornados sponsorship of NASCAR Sprint Cup Series No. 39 driver, Ryan Newman, has proven to be right on target.
Dinuba, CA (Vocus/PRWEB) February 23, 2011
Tornados announces an on-pack consumer racing promotion featuring Tornados sponsored NASCAR Sprint Cup Series No. 39 Chevrolet driver Ryan Newman.
Beginning February through the end of September, 2011, consumers will be able to enter the code printed on the inside of limited edition specially marked boxes of Tornados for a chance to win one of hundreds of prizes. Each limited edition product box features the colorful Tornados Sprint Cup Series No. 39 Chevrolet and a photograph of Ryan Newman. Registration is completed on mytornados.com.
The grand "Ticket to Ride II" prize will feature:

a VIP trip for two to Charlotte, NC to include hotel accommodations for 3 days and 2 nights
hot laps with Tornados NASCAR driver Ryan Newman
Richard Petty Rookie School driving lessons
tour of NASCAR Hall of Fame
$500 in spending money
and much more
"The response to Tornados by the retail consumer has been excellent," said Bryce Ruiz, President and CEO, Ruiz Foods. "And our Tornados sponsorship of NASCAR Sprint Cup Series No. 39 driver, Ryan Newman, has proven to be right on target. Both NASCAR fans and our Tornados consumers have voiced their excitement … and support. Our Tornados consumer loves convenience, convenience and more convenience. They also want bold, new and exciting flavors that challenge their tastebuds – offering excitement and variety to what was becoming a 'ho hum' category. This same desire for boldness and excitement holds true for NASCAR Ryan Newman fans."
Hundreds of other prizes include, Tornados #39 remote-controlled race car models, Tornados custom skateboards, and Tornados custom cruiser bicycles.
The promotion will be supported through a nationally distributed FSI, Facebook and mytornados.com.
"I'm proud to partner with Tornados and am excited about this consumer promotion," said Ryan Newman. "Tornados is an ideal partner for us because a lot of times we have to eat quick, especially at the track. With Tornados, we don't have to sacrifice taste for speed."
Retail flavors included in the national promotion are:
Ranchero Beef & Cheese Tornados
Grilled Chicken & Cheese Tornados
Chicken Club Tornados
Southwest Chicken Tornados
Cheesy Pepper Jack Tornados
Cheesy Pepperoni Tornados
About Ruiz Foods
Ruiz Foods is a privately owned corporation with corporate offices in Dinuba, CA. Third generation Bryce Ruiz, the elder son of Chairman Emeritus and Co Founder, Fred Ruiz, is President and CEO. Kim Ruiz Beck, the elder daughter, is Chairman.
Ruiz Foods is dedicated to premium quality, authentically prepared frozen foods selling to all channels of distribution: retail, convenience store, clubs, vending, industrial and foodservice. The Tornados® brand, introduced just 6 years ago, has revolutionized the use of the roller grill in convenience stores with recent retail introduction. The El Monterey® brand is the market leader within the frozen Mexican food category and the #1 Brand of frozen Mexican food in the U.S. Ruiz Foods employs over 2,500 Team Members in three facilities located in the United States.
###