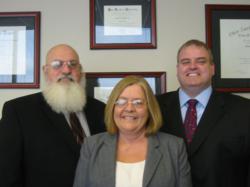 The seriousness in filing for bankruptcy cannot be underestimated.
Columbus, Ohio (Vocus/PRWEB) February 22, 2011
After three consecutive years of increases, Ohio's reduction in bankruptcy filings is seen by some as a positive economic sign, but law professionals also believe many Ohioans are simply not aware of the fresh start a bankruptcy can offer. Without relief, those encumbered by debt, in the Columbus area especially, can remain trapped in a financial vicious cycle for years.
Columbus Bankruptcy Law Firm gives struggling area residents the facts necessary to decide if Chapter 13, Chapter 7, or Chapter 11 can bring about the financial stability necessary to begin again. Columbus Bankruptcy Law Firm's attorneys know that empowered by information, consumers in debt will always make the right choice.
Americans know that filing for bankruptcy is a major decision, with long-lasting implications. Bankruptcy laws are designed to help people who are no longer able to pay their creditors by either liquidating assets to pay their debts or by creating a repayment plan, for a financial fresh start.
Columbus Bankruptcy Law Firm's informational bankruptcy basics include:

Analyzing Your Assets and Debt
Protecting Your Rights
Dealing with Aggressive Creditors
Life After Bankruptcy
Attorney Kenneth L. Sheppard Jr. and the lawyers at Columbus Bankruptcy Law know that every broken financial picture is repairable. It's how it's fixed that will vary.
To understand your options, Contact Attorney Kenneth L. Sheppard, Jr. and Columbus Bankruptcy Law Firm for a confidential, free evaluation of your financial situation.
For more information on Bankruptcy Basics, or a free, professional consultation on any Columbus Bankruptcy issue, call: (888) 814-4825.
Or visit the company's website at: http://www.ColumbusBankruptcyLawFirm.com
# # #