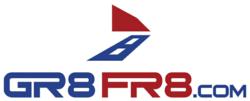 With GR8FR8.com there's no more playing phone tag, lost faxes, or messy paperwork
Grand Rapids, Michigan (Vocus/PRWEB) February 22, 2011
(Great Freight) GR8FR8.com has just announced a free trial offer for shippers to create an account and start utilizing the website's robust TMS tools for 30-days with no further obligation. "Many small-to-midsized shippers still practice manual methods of freight management; through e-mails, phone calls, and faxes, and simply don't realize that there is a more efficient way that is now affordable to them," notes Executive VP, John VanKampen. GR8FR8.com helps shippers gain better control of their freight, by centralizing and streamlining the shipment process from quoting through delivery and even settlement. In addition, The GR8FR8.com platform allows shippers to request freight quotes from their carriers (or marketplace), minimize data entry, communicate with the carrier, track shipments, and generate reports at a fraction of the cost of server-based TMS.
Shipper customers can also refer their preferred carriers to the site who will also enjoy a trial period. This will allow them to conduct 'business-as-usual' by direct-tendering shipments to carriers or freight brokers of choice. They will then experience ultimate visibility of their shipment, as well as future access to historical data, and so much more. "With GR8FR8.com there's no more playing phone tag, lost faxes, or messy paperwork," says VP of Operations, Paul Laidler, "so the soft-savings of time and efficiency will be evident from day one," closes Laidler.
GR8FR8 will pre-load each trial account with 30 free shipment credits ($300 value) and offer additional credits as-needed during the 30-day trial. After trial period, shippers pay only $10 per shipment posted in the system and a nominal annual fee. Simply visit the 'pricing' page on GR8FR8.com to get the promo code.
Rounding out their service, they offer access to live, expert freight assistance called FR8Guard™ for hot shipments, or emergency freight help on a cost plus basis. GR8FR8.com combines the best of all worlds.
# # #