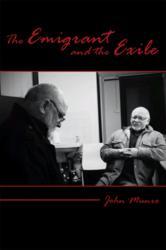 Adelaide, Australia (Vocus/PRWEB) February 23, 2011
The Emigrant and the Exile, a new book by John Munro, has been released by RoseDog Books.
Eric Bogle is a songwriter whose songs have been recorded by such as Joan Baez, The Pogues, The Fureys, June Tabor, and many others. He is best known for songs such as "And the Band Played Waltzing Matilda," "The Green Fields of France," "Now I'm Easy," "Leaving Nancy," and hundreds of others, which have touched the hearts or tickled the funny bones of many.
He was born in Peebles, Scotland, in 1944 and migrated to Australia in 1969. His songs have earned him the Order of Australia and the UN Peace Medal among many other accolades. Eric and John (as his accompanist) have travelled the world many times since joining forces in 1980, and Eric's music is appreciated across North America, Europe, and Australia. Now it's time to stop and reflect on the journey.
John Munro was born in Glasgow, Scotland, in 1947 and migrated to Australia in 1965. He thinks he'll stay. John is a world-renowned guitarist and songwriter, having toured the UK, Canada, the US, and Europe on many occasions with Australia's Colcannon and as accompanist to Eric Bogle.
John is a social worker by training and lives in Adelaide, South Australia, with his wife, Alana. His inherited children, Tabetha and Jarrod, live nearby with their partners, David and Stacey, respectively. Tabetha and David have contributed two exceptional grandchildren, Flynn and Elijah. Jarrod and Stacey have some catching up to do.
The Emigrant and the Exile is a 180-page paperback with a retail price of $20.00. The ISBN is 978-1-4349-8346-6. It was published by RoseDog Books of Pittsburgh, Pennsylvania. For more information or to request a review copy, please visit our virtual pressroom at http://www.rosedog.com/pressroom or our online bookstore at http://www.rosedogbookstore.com.
###