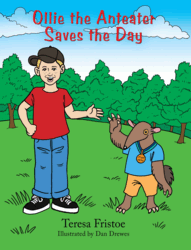 Monument, CO (Vocus/PRWEB) February 23, 2011
Many kids have odd and unique pets. But Ken, the main character of Ollie the Anteater Saves the Day (published by AuthorHouse) by Teresa Fristoe, has the most unique pet in town.
Ken has finally saved up enough money for a new puppy, so he takes a long awaited trip to the pet store. However, when he gets to the pet store there are no puppies. What they do have is an anteater that has a penchant for hot and spicy fire ants. Ken names his new friend Ollie.
When Ollie the anteater eats all the ants from Ken's lawn the first afternoon, Ken has to quickly find more ants for his new pet. Being an industrious young man, Ken opens a business. Using a recycled lemonade stand Ken offers to have Ollie eat the ants in other people's lawns for 50 cents. Ollie eats every ant on his block, freeing the kids to play outside once again. Ken's new friend Ollie becomes the hero of the neighborhood.
After Ollie's resounding success ridding Ken's neighborhood of pesky ants, Ollie is hired to take care of the ant problem at the local baseball field by Ken's coach. Of course, Ollie does his job quite well. The coach is so impressed that he changes the name of the team to the "Anteaters" and Ollie is named the official mascot.
As word spreads of the remarkable creature, Ken's teacher invites Ollie to school for Show-And-Tell. Many of the students have never seen a live anteater before and Ollie is a big hit. After eating all the ants from the playground at recess, Ollie receives the distinguished honor of being named "Student of the Week" by the principal.
After Ollie's day at school, Ken receives a call from the mayor. The annual town picnic is in danger of being cancelled because of a fire ant infestation at the city park. Can Ollie save the day?
Ollie the Anteater Saves the Day is a charming book with endearing characters that will appeal to readers of all ages.
About the Author
Teresa Fristoe is a former elementary school teacher and Instructional Coordinator. She earned a bachelor's degree in education from Texas A&M University. She went on to receive a master's degree in Educational Administration and Supervision from the University of Houston. Fristoe and her family recently relocated from the Houston, TX area to a small town just north of Colorado Springs, CO. She has worked as a partner in her family's business for the last 12 years.
AuthorHouse is a premier book publisher for emerging, self-published authors. For more information, please visit http://www.authorhouse.com.
EDITORS: For review copies or interview requests, contact:
Marketing Services
Tel: 888-519-5121
Fax: 812-961-3133
Email: pressreleases(at)authorhouse(dot)com
(When requesting a review copy, please provide a street address.)
# # #